Jerry Manuel: 'I could have strangled Ryan Church'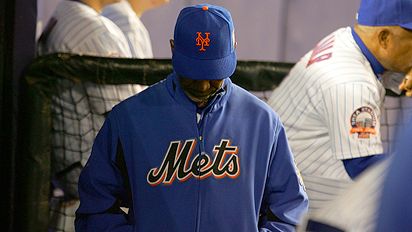 Following a loss in which the young outfielder missed third base when scoring what could have eventually been the game-winning run, Mets' manager Jerry Manuel said he could have strangled Ryan Chuch following New York's loss to the Dodgers on Monday night. And apparently the rift between Manuel and Church started well before Monday night's base running gaff.
It started in spring training when Manuel suggested Church, not the young Daniel Murphy, could end up in a platoon with Fernando Tatis, saying Murphy was a better hitter.

It continued when Manuel voiced his support for the Mets' signing of Gary Sheffield just before the start of the regular season, a move that threatened to cut into Church's playing time more than anyone else's. And it did, even as Church got off to a scorching start at the plate.

When Manuel didn't even bother walking out to ask the umpire what happened Monday, let alone argue on Church's behalf, then called him out afterward, it only fueled the perception that already existed.

Manuel said he didn't need an explanation because third-base coach Razor Shines told him Church didn't step on the bag, and said he was only being honest in his post-game remarks.
When asked Tuesday if he was angry with Church, Manuel said, "Oh, you doggone right I was mad at him. I could have strangled him." But he said it was not something that carried over into the next day.
It has to be tough being Manuel these days, knowing you have one of the most talented teams in the NL but they can't even do the little things right. The media tends to overreact when a manager gets upset with a player, but what manager wouldn't be upset with a player when they can't touch third base when they're heading home? It's little league-type stuff and Manuel has to be beyond tired of it.
Based on his comments in the article, it seems like Church is handling everything in stride though. He knows he's a professional and being a young hitter he is going to be ridden more by the manager. We'll see how he (and the rest of the Mets for that matter) respond.