Saints considering Edgerrin James – but why?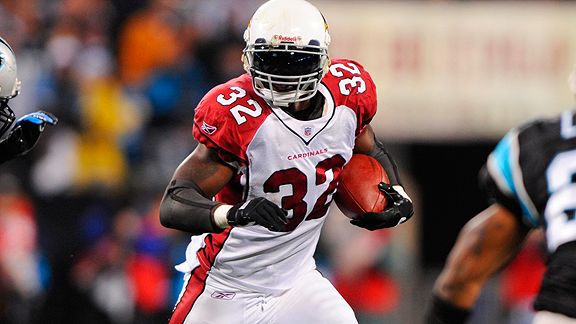 According to a report by FOXSports.com, the Saints are considering signing free agent running back Edgerrin James.
Saints general manager Mickey Loomis told FOXSports.com that the team is still considering making a contract offer to free-agent running back Edgerrin James.

"We've spent some time evaluating Edgerrin," Loomis said Tuesday morning. "We think he can still play. We're going to continue to evaluate that and see where it ends up. We haven't made a decision on Edgerrin yet."

James could be a nice fit in New Orleans, which didn't draft or sign a replacement for the released Deuce McAllister. Loomis, though, expressed confidence that Pierre Thomas and Reggie Bush could carry the Saints' rushing load. A five-game starter last season, Thomas scored nine times and gained 625 yards on only 129 carries. Bush generated 844 yards from scrimmage in an injury-plagued 2008 campaign.

"Every time Pierre has had the opportunity to play, he's performed really well," Loomis said. "I think he was one of the leaders in the league in not getting tackled for a loss among running backs (in 2008). He's not the big prototype back that Deuce was but we're confident that Pierre can do some good things for us.
I completely disagree that James would be a good fit. I know the Saints are trying to replace McAllister, but Thomas proved last year that he deserves more carries and the team still has to make sure that Bush gets his touches as well (at least until he gets hurt).
If they want to add a bruiser for short yardage situations ala McAllister last year, then James isn't the guy. And don't forget that James wanted out of Arizona because he didn't like splitting carries with Tim Hightower and feels as though he can still be a starter. Thomas has way more upside than James, so why eat into his carries?
The Saints only had one draft pick in the first three rounds this year. Had they had more, there's a very likely chance that they would have selected a running back like Beanie Wells in the first round. Why? I'm a little confused by the Saints line of thinking here with how well Thomas played last season.