Ryan Zimmerman's hitting streak reaches 29 games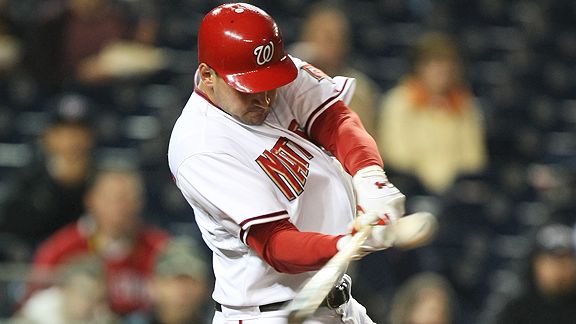 There isn't much positive news coming out of Washington these days when it comes to the Nationals…outside of Ryan Zimmerman's now 29-game hit streak, that is.
Zimmerman went 4 for 5 with two homers for the Nationals, including a solo shot in the sixth off Johnson and a three-run shot in the ninth. He wasted no time extending the longest hitting streak in the Nationals' brief history and the longest by a third baseman in a quarter-century when he slapped a first-inning single.

"He's a big man. I've got legs and arms and everything coming at me," Zimmerman said of Johnson. "His slider looks pretty good, just like it does on TV. I can see why he's been so good."
With his ninth-inning shot off the tin covering on the right-field arcade, Zimmerman improved to 48 for 126 (.381) since the streak began.
What's rather impressive about Zimmerman is that he stands away from the plate, which leaves the outside corner exposed (or one would think). But Zimmerman is anticipating pitchers trying to work the outside corner and he's just going with the pitch. He's not trying to do too much with the pitch and he's not trying to pull the ball like so many batters (on all levels) do. He's seeing the ball incredibly well right now and the 3-run dinger he hit last night at AT&T Park was impressive given how high the ball must travel over the wall at that stadium.
He's got a long way to go to catch Joe DiMaggio's 56 games, but it'll be fun to watch Zimmerman try to extend his streak on a nightly basis.