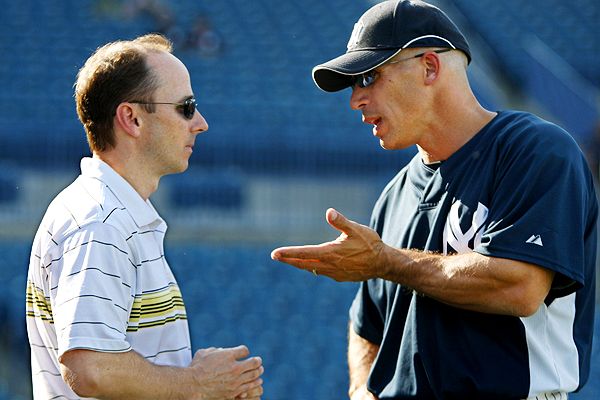 According to a report by the New York Post, it appears that Yankees' manager Joe Girardi's job is safe for now.
At 13-14 after last night's 4-3 loss to the Rays, voices in and out of baseball are wondering if Girardi, who is in the second season of a three-year contract, is safe.

According to several organizational sources Girardi's job security isn't an issue. Too many injuries too early in the season and slow starts by CC Sabathia and Mark Teixeira. And he hasn't had cleanup hitter Alex Rodriguez play a game, lost Chien-Ming Wang early and Jorge Posada recently.

Though Girardi said he understands the attention that comes with managing the Yankees, he said he isn't fixated on those who blame him for the pedestrian start and being dominated by the Red Sox.

"That's not something I really focus on. I focus on the task at hand. Every day we do the best we can to prepare our club and every move we make is to win the game and that's what I focus on," said Girardi, who has been hamstrung by an awful bullpen.
As the article notes, Girardi can't do anything about veterans like Sabathia and Teixeira getting off to slow starts, A-Fraud not being in the lineup and Wang forgetting that he's not pitching in a home run derby contest every fifth day. Girardi will continue to catch heat because he replaced a manager in Joe Torre who should have never been fired in the first place, and the pressure to succeed will always be bestowed on Yankee managers because of how much the club spends to win. It just comes with the territory.
The manager is always on the front lines when a team is losing, but at some point the players are going to have to just step up and freaking produce. Girardi can't manage situations that are unmanageable (i.e. the pitching staff turning the new Yankee Stadium into Coors Field).