Report: Favre to meet with Vikings' coach Brad Childress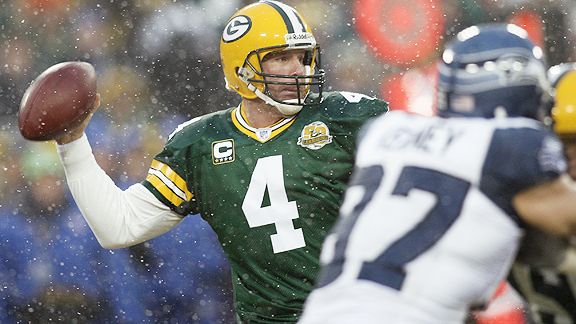 According to ESPN.com and the Minneapolis Star-Tribune, Brett Favre will meet with Vikings' head coach Brad Childress sometime this week at an undisclosed location to discuss his return to football.
The ESPN report stated that there is a mutual understanding that sometime soon after the meeting, Favre will decide whether to sign with the Vikings and that Childress would expect him to participate fully in the offseason minicamps and training camps. Favre, who will turn 40 on Oct. 10, was never fond of participating in the Packers' offseason camps. The future Hall of Famer did not get traded to the New York Jets in time last year for that to become an issue.
One thing working in the Vikings' favor is that Favre is very familiar with the West Coast offensive system the team runs — he directed the same offense for several years in Green Bay. He also is extremely close with former Packers assistant and current Vikings offensive coordinator Darrell Bevell.

Perhaps the Vikings' biggest concern will be the condition of Favre's injured right biceps tendon, which played a role in his struggles late last season when the Jets won only one of their final five games. ESPN reported that Favre might believe his arm can heal on its own without surgery, and how the injury heals will be a factor in his decision.
Assuming of course that these reports are true and that he wants to come back, the question the Vikings should be asking themselves is whether or not Favre makes them better. Since 1998, he is 3-6 in the playoffs with 16 touchdowns and 18 interceptions and his play dramatically fell off again towards the end of last season because of his biceps injury. Is he completely healthy? If he is, can he stay healthy for an entire season?
I'm not entirely sure that at this point Favre is significantly better option than Sage Rosenfels or Tarvaris Jackson. The same core that got the Vikings to the playoffs last year is returning and while Rosenfels isn't a spectacular quarterback, he can certainly turn around and hand the ball to Adrian Peterson 25 times a game.