Broncos' owner: 'We had no other choice but to trade Cutler'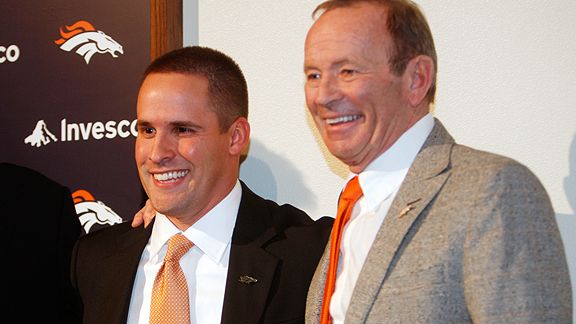 In an interview with Denver Post columnist Woody Paige, Denver owner Pat Bowlen discussed a variety of Broncos-related topics, including how Jay Cutler left the team no choice but to trade him.
"Honestly, I still don't know what happened with Jay. I don't want to throw him under the bus, but I made two phone calls (and there is proof, Broncos executives claim) and left voice mails with my cell number and asked him to call me, and he didn't," Bowlen said. "I don't do e-mails. If Jay had called and said he thought the coach was (not a nice person) and he wanted out of here, I would have said, 'Let's work this out.' But I heard nothing directly from him.

"Pick up the phone! That's where we got off the rails. We had no other choice but to trade him. If (the trade talk) was the reason Jay left, he should have left."
I feel for Bowlen because he was stuck in the middle of Cutler and new head coach Josh McDaniels during their feud. I think Cutler wanted out the moment Mike Shanahan was fired and he saw an opening when McDaniels attempted to trade for his former quarterback Matt Cassel. Cutler was trying to baby his way out by refusing to deal with the situation like a grown up and McDaniels' ego wasn't about to allow him to let a young quarterback bully him around in his first gig as a head coach.
So I believe Bowlen when he says Cutler never returned his phone calls and thus he had no choice but to trade the QB. What was Bowlen supposed to do? He had just hired McDaniels and I'm sure the new coach was telling him that the team could win without Cutler. In the end, he was forced to make a trade he didn't want to make and now he just has to hope that everything works out in the end.