Five "can't-miss" first round prospects in the 2009 NFL Draft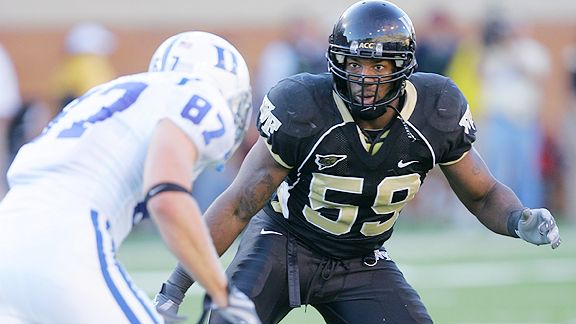 There is no such thing as a "can't-miss" prospect in the first round of an NFL draft. They just don't exist. For as much as teams scout and prepare, it's inevitable that some prospects just aren't going to pan out, which means they hop the train to Bustville right out of the gates.
Before you check to make sure that you've taken the correct dosage of your medication today, I realize that the first line of this article directly contradicts the title. That's because even though there is no such thing as "can't-miss" prospect in the first round, this is the time of year to have a little fun by making some predictions.
Two weeks ago, I complied a ranking of the top 5 potential first round busts in this month's draft. So I thought it was only appropriate that I construct another top 5 ranking, this time of players I deem to be "can't-miss" prospects. These are first round prospects that I think are low-risk, high-reward players.
Fair warning, don't flip out when you read names of prospects that are expected to go in the top 10. This isn't a piece dedicated to first round steals – it's one that centers around prospects that should have the least amount of risk involved and the highest success rate.
Just as I mentioned in my top 5 first round busts piece, I realize that one or two of these prospects might slip to the second round (see Alex Mack). But on average, most pundits would agree that all five of the players are first round talents.
1. Aaron Curry, LB, Wake Forest
Some believe Curry is the best prospect in the entire draft and I'm one of them. What's impressive about the Wake Forest product is that he projects as either a middle or outside linebacker in any defensive scheme. Some linebackers and defensive ends don't have a true position in the NFL because of lack of size, but Curry is projected to have multiple positions at the next level. He's also a three-down player who not only can be a force against the run, but he's so athletic that he can stay on the field in passing situations and cover backs and tight ends in coverage. Curry is the ultimate package and has limited weaknesses, which is why some Lions fans are holding out hope that Detroit will make him the No. 1 pick.
2. Eugene Monroe, OT, Virginia
Baylor's Jason Smith is rated as the best offensive tackle in this month's draft – and for good reason. He has great size, athleticism and is projected to be the best pass blocker of any offensive lineman in the draft. But while Smith might have a higher ceiling in terms of potential, Monroe is arguably the safest prospect in the entire draft. He doesn't excel at any one facet of the game, yet is fundamentally sound in both run blocking and pass protection, and is also more athletic than what people give him credit for. Monroe is the prototypical NFL offensive tackle in terms of size (he's 6'5", 309 pounds) and has tons of experience (he was a three-year starter and could have played as a true freshman if it wasn't for D'Brickashaw Ferguson). He also has outstanding footwork, which is often the most important thing when pro scouts are looking at offensive line prospects. Whichever team lands Monroe will probably be able to plug him in at left tackle and forget about having to draft the position again for the next 10 to 12 years.
3. Alex Mack, C, California
Some people are going to take one look at Mack's position and wonder what I smoked right before sitting down to write this piece. A center for a first round pick? Believe it. The last center to be selected in the first round was Nick Mangold by the Jets in 2006. While he struggled a bit during his sophomore season, he's been a quality player in the middle of the Jets' offensive line and will likely continue to be for years to come. Centers are often the most overlooked position on the field and yet they're responsible for getting their linemates set, calling out audibles and making pre-snap adjustments so their quarterbacks don't get killed. They're often the most intelligent players on the field and prospects like Mack are changing the way teams view centers in the draft. Mack doesn't come without his flaws (he can be overly aggressive at times), but he's extremely intelligent, has great technique and he's an incredibly hard worker. He also comes loaded with experience, is strong and doesn't have any durability issues. Mack won't be selected in the top 20 and could fall into the early second round, but he's the best center prospect to come out in several years and chances are he's going to be very successful at the next level.
4. B.J. Raji, DT, Boston College
Some will argue that since Raji comes with off field baggage (i.e. he was ejected from a game in 2006 for throwing a punch, he missed the entire 2007 college season because of an academic issue and he also tested positive for marijuana before the 2008 season) that he could be one of the bigger first round risks this year. But back in 1995 there was a defensive tackle out of Miami named Warren Sapp that had some off field issues (including a reported failed drug test leading up the draft) too, yet he turned the doubts and criticisms into motivation and wound up being a seven-time Pro Bowler. Raji has a ton of talent and if he's motivated, he could become one of the more dominant interior defensive linemen in the NFL some day. He's big enough and quick enough to play either tackle position in a 4-3, and has enough size to play nose in a 3-4. He has outstanding strength, can occupy multiple defenders and flashes good instincts and quickness at the point of attack. If he winds up in a solid organization (i.e. Green Bay), he could turn out to be one of the best first round picks in this draft. He just needs to stay focused and motivated.
5. Rey Maualuga, LB, USC
Maualuga isn't a three-down player. He won't be very good in coverage if he's left in obvious passing situations and he's not Aaron Curry in that he can play multiple 'backer positions in either a 4-3 or 3-4. Maualuga is a true thumper in every sense of the word and if he winds up playing inside linebacker in a 3-4 or middle linebacker in a 4-3, he's going to be a force. He has the size and strength to shed blockers and despite not having ideal speed, he's a solid pass rusher and decent blitzer. The bottom line is that Maualuga has to fit into the right defensive scheme to be completely successful, but if he does, he could become one of the better young 'backers in the NFL in a short amount of time.
Be sure to return to The Scores Report the week of the draft as John Paulsen and I break down what positions are the safest bets in the first round.