2009 MLB Preview: #15 Oakland A's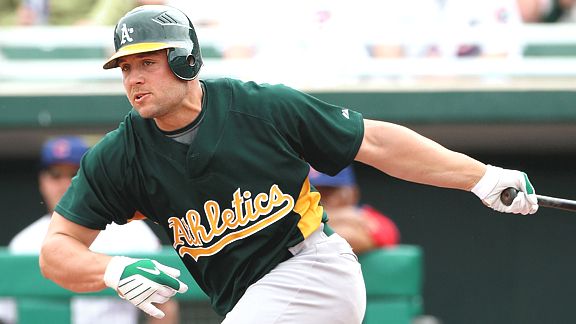 Click Here to see Previews of all 30 MLB Teams
Offseason Movement: In one of the biggest trades this offseason, the Rockies' dealt outfielder Matt Holliday to the A's in exchange for Carlos Gonzalez, Huston Street and Greg Smith. Oakland also brought back Jason Giambi, who played for the A's earlier in his career, and signed free agent Orlando Cabrera.
Top Prospect: Trevor Cahill, RHP
Some would say that LHP Brett Anderson deserves mention here, but his ceiling isn't as high as Cahill's and he suffered a forearm injury in spring training, which probably cost him a roster spot this year. Cahill has a chance of landing in the starting rotation now that Anderson and Gio Gonzalez have been sidetracked by injuries. He has the potential to be a future ace and even if he doesn't make the Opening Day roster this season, he could be called up at the All-Star break if the A's our out of contention.
The Big Question: Can the young arms produce?
The A's have a ton of promising young arms in their rotation, but a ton of question marks as well. With Justin Duchscherer expected to miss Opening Day with an elbow injury, youngsters like Sean Gallagher, Gio Gonzalez, Trevor Cahill (if he makes the major league roster), Edgar Gonzalez, Dana Eveland and Dallas Braden have to step up. Thus far, Gallagher and Edgar Gonzalez haven't looked sharp this spring and Gio Gonzalez has been sidelined with tightness in his throwing shoulder. Braden is expected to start on Opening Day, but he's more of a fourth or fifth starter. If a young prospect like Cahill can emerge, the A's should remain in contention. But if more injuries occur, then this rotation seems doomed.
Outlook: With the offseason additions of Matt Holliday, Jason Giambi and Orlando Cabrera, it's clear that the A's are going for broke this season. In Holliday, Giambi and Jack Cust, they have one of the better 3-4-5's in baseball and should score runs in bunches again this season. (Although Holliday's numbers will no doubt take a dip now that he won't be hitting at Coors anymore.) But everything hinges on the young pitching staff. If a couple of youngsters can grow up in a hurry, the A's will be in contention. But so far small injuries are starting to spread and for a club that has had trouble staying healthy in the past, that's not good. It also remains to be seen whether or not their closer-by-committee plan will pan out. Given their offensive and defensive upgrades this offseason, there's some talk of the A's being a dark horse this year. Will they overtake the Angels in the division? Probably not. But again, if the young pitching staff comes together and the A's stay healthy, the AL Wild Card might not be out of reach.
Projection: 2nd AL West
Posted in: MLB
Tags: 2009 MLB Preview, 2009 MLB Projections, 2009 MLB Team Previews, 2009 Oakland A's Outlook, 2009 Oakland A's Preview, Brett Anderson, Dallas Braden, Dana Eveland, Edgar Gonzalez, Gio Gonzalez, Jason Giambi, Matt Holliday, MLB Preview 2009, Orlando Cabrera, Sean Gallagher, Trevor Cahill