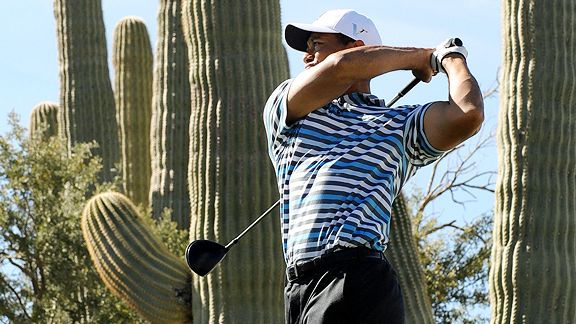 Welcome Back, Eldrick!
That should be on the marquee outside the Ritz-Carlton Golf Club in Tucson this weekend, as Tiger Woods makes his return to the PGA tour at the Accenture Match Play Championship. He has completed his rehabilitation from knee surgery and the next step for him is competing inside the ropes of a tournament. It has only been 253 days since Tiger's tournament victory at the U.S. Open last June, but who's counting?
The PGA executives were, that's who. Their sport is back on the front page of websites and newspapers all throughout the world as everyone anticipates Woods' return. The turnstiles will be ringing in Tucson this weekend, as golf's main attraction will be on display once again. And the tour's corporate sponsors will be smiling; television ratings should go through the roof. The tour has struggled to keep its sponsors, but Tiger's return should give it a much-needed shot in the arm.
It's almost unrealistic to expect Tiger to sustain the pace he was playing at last season. His U.S. Open victory at Torrey Pines was his ninth overall win in 12 2008 PGA tournament appearances, and Woods finished no worse than fifth in the other three events. He did confess in a conference call with reporters last week that it will be comforting to hit a golf ball on a healthy knee for the first time in a few years. Tiger wouldn't elaborate further except that bones inside his knee would move on certain shots that he attempted in a round of golf. It turns out that Woods could have returned sooner to the tour but elected to wait until after the birth of his son, Charles Axel, earlier this month.
Tiger is the world's best stroke-player, but his match-play career numbers (31-6 at Accenture) are even more impressive. Throw in his career record (6-3-1) in Ryder and President Cup play and it's clear that the match play format could be helpful in Tiger having a successful return to the tour.
There are many unanswered questions surrounding Woods' stamina: How will his knee react to playing competitive golf? What is the recovery time for Tiger from the day-to-day rigors of tournament play? These questions could be partially answered this weekend. Remember, he hasn't played in a PGA event in close to nine months, and Woods will need multiple rounds of golf to knock the rust off his game.
Tiger will get ample opportunity to play a ton of golf in the match play format, as the first three rounds will consist of one 18-hole match per day. On Saturday, an 18-hole quarterfinal match will take place in the morning, followed by an 18-hole semifinal match in the afternoon. And the finals on Sunday will consist of a 36-hole championship match.
One stumbling block (for all the golfers) will be playing a PGA tournament on an unknown course. None of them will be able to determine the speed of the fairways at the Jack Nicklaus newly-designed links until after completing their practice rounds. Historically, round play in Arizona has been an adventure for golfers, as the desert climate wreaks havoc with their tee shots.
Tiger would love to confirm his playing schedule in preparation for the Masters on April 9, but he cannot. Ideally, Woods would play every other week until he arrives at Augusta. This would give him enough golf to knock off the rust and aid his pursuit of a fifth green jacket.
We never get a true read on what Tiger is thinking or how his knee rehabilitation is actually progressing. The barriers are firmly in place to keep intruders away, but if we've learned one thing in the past it's that Woods is always two steps ahead of the pace.