NBA Rumors: Nash's extension, Grizzlies like Thabeet and more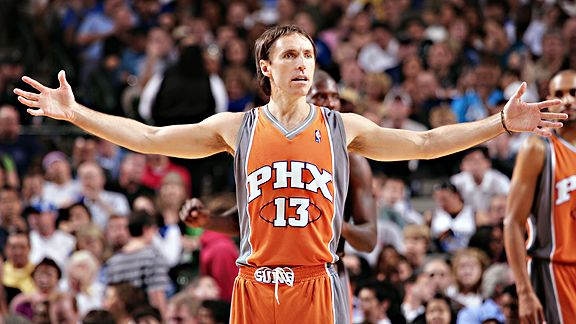 – Steve Nash plans to wait and see what happens to the Suns' roster before getting serious about an extension.
– Ron Artest would like to return to Houston, but if he gets an offer he can't refuse from someone else, he's not going to refuse it.
– The Nets have been rumored to be shopping Yi Jianlian, but Rod Thorn doesn't see it that way.
– Before the lottery, the Grizzlies were supposedly one of the few teams to have more interest in Hasheem Thabeet than Blake Griffin, so expect Memphis to take the UConn shotblocker with the second pick in the draft.
– ESPN Insider says that the Knicks' interest in Stephen Curry might have more to do with LeBron's friendship with and admiration for the young man than his being the right pick for the Knicks. So they may draft Curry to have a better shot at LeBron next summer.
– It looks like Rockets owner Leslie Alexander is willing to spend. There's never been a better time to wrestle good players from other teams looking to cut salary. The Rockets have T-Mac's monster contract ($22.5 million) that expires next summer, which means the Rockets may be able to pull off a deal similar to the Iverson/Billups swap that the Nuggets made last year.
– The Jazz are willing to pay luxury tax to keep Paul Millsap on the roster. This could just be a smokescreen meant to dissuade other teams from making the restricted free agent an offer, but the Jazz do seem determined to re-sign the talented forward.