McDaniels' first season in Denver ends in disaster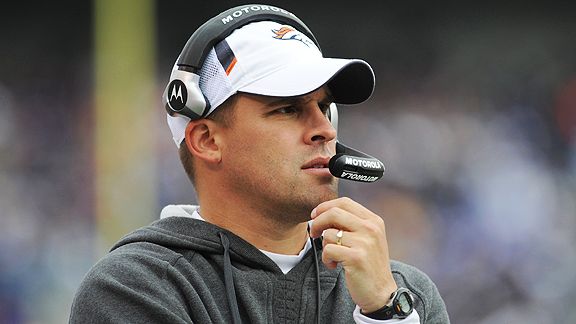 After the Broncos collapsed down the stretch in 2008, owner Pat Bowlen decided that enough was enough. He fired long-time head coach Mike Shanahan and replaced him with first-timer Josh McDaniels, who became the youngest coach in the NFL.
As it turns out Bowlen's decision netted the same result, as the Broncos collapsed for the second straight year. Things came to an embarrassing finish today when Kansas City routed Denver 44-24, as Kyle Orton racked up 431 yards and a touchdown but also threw three picks.
As if the collapse wasn't bad enough, McDaniels is also in the midst of a controversy after he decided to bench Brandon Marshall for Sunday's game. ESPN.com is reporting that Marshall was specifically benched for being late to a therapy session for his strained hamstring. Marshall suffered the injury on Wednesday and said he wasn't healthy enough to face the Chiefs, but McDaniels noted that some Broncos were playing with more serious injuries and deactivated the wideout in retaliation.
However the Marshall-McDaniels' spat started, it didn't end well and the Broncos' embarrassing loss to the Chiefs added insult to injury. How do the players view a head coach who benches their key offensive weapon for a must-win game? I'm not suggesting McDaniels was in the wrong, but I wonder how the players feel now that they're season ended like this.
I would have to imagine that Marshall has played his last snap in Denver.