Was Rey Maualuga a handful at USC?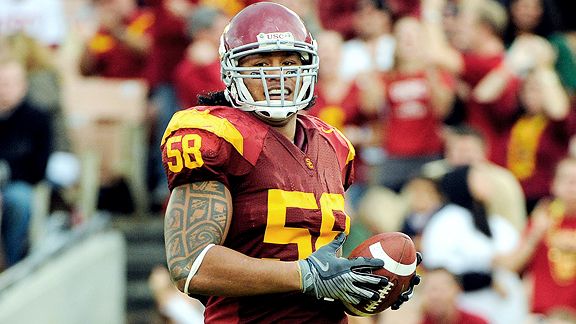 According to a report by Michael Lombardi of the National Football Post, one of the reasons why linebacker Rey Maualuga fell in last month's draft (he was selected by the Bengals with the 38th overall pick after most projected him to go in the first round) was because he was a "handful" at USC.
Rey Maualuga, the second-round pick of the Bengals, needs to make sure he walks a very tight behavior line in Cincinnati. Maualuga slipped in the draft for a number of reasons, and he must keep his off-the-field behavior in check and not create problems for the coaching staff. In talking to some NFL people, I heard that Maualuga was not always compliant with the rules on and off the field at USC. He was, as one GM said to me, putting it mildly, "a handful."
Well, Maualuga wound up in the right place if he's intent on being disorderly.
When you think about it, Maualuga slipping into the second round isn't that big of a surprise. First of all, scouts consider him a two-down linebacker in that he can be a force against the run, but a liability in coverage and thus he'll have to come off the field in obvious passing situations. And if teams knew he caused coaches grief off the field while at USC, then it makes sense that NFL GMs hesitated taking him in the first round. No pro team is going to want to invest first round money on a player who was known to be (to borrow the exact word from the report) a handful while in college, not to mention will have limitations on the field at the next level.
The Bengals' draft this year has boom or bust written all over it, or at least their first two picks do. Andre Smith was the riskiest pick in the first round given all the baggage he carried with him coming into the draft and now it's clear that Maualuga was a risk as well, even for the second round. But both players are immensely talented and if they can fly straight and just play football, then Cincy might have gotten two steals. Plus, there's a difference between being a handful and being destructive. We're not talking about choir boys here and as long as Maualuga can respect his coaching staff and not get in trouble with the law, then I doubt the Bengals care if he's a bit of a character.