Trying to make sense of the Timberwolves' first two picks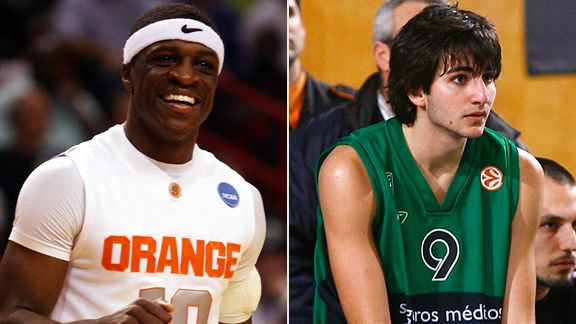 Probably the most perplexing sequence of events occurred early last night when the Minnesota Timberwolves picked Ricky Rubio and Jonny Flynn — two pure point guards — with back-to-back picks. My first instinct was that GM David Kahn (Kaaaaaaaaaahn!) was working out a trade for one of the guards, possibly moving Rubio to the Warriors or Knicks or some other team for a pick and/or veteran help. But then Ric Bucher popped his head in to inform us that Kahn said that he plans to play Rubio and Flynn together. Later on, Kahn mentioned a few examples of point guard duos that have played well in the past, citing Isiah Thomas and Joe Dumars, Dennis Johnson and Danny Ainge, and…gulp…Michael Jordan and John Paxson.
Setting aside the Jordan/Paxson comparison for a moment, let's look at the other two examples. DJ and Ainge were both 6'4″ combo guards and neither guy had to have the ball in his hands to be effective. I don't think the same will be said about Rubio or Flynn (certainly not Rubio). Dumars was 6'3″ defensive stopper and deadeye shooter, while Zeke was a ball-dominant playmaker. In short, Thomas was a pure point guard, while Dumars, Ainge and DJ were combo guards. Those backcourts worked because the two players complemented each other.
But back to Jordan/Paxson — if I'm a Timberwolves fan and I hear that my general manager is referring to Michael Jordan as a point guard, I'm getting out on the ledge. MJ was a 6'6″ wing, who could do everything — handle, shoot, post up and play defense. He was more of a 2/3 who could run the point if necessary. If Kahn really thinks that he was a point guard, then that shows an alarming lack of basic knowledge about the game.
But that's not the only reason the comparison is invalid. A general manager should not be invoking Jordan's name when discussing his first few picks in the draft. He is arguably the greatest player ever to play the game, so it's not fair to expect your rookies to do the same things he did. Any backcourt that featured Jordan would have worked. He was that good.
Once Hasheem Thabeet, James Harden and Tyreke Evans were off the board, I thought for sure the T-Wolves would take a point guard (Rubio or Flynn) and Stephen Curry, who is a smallish combo guard that can shoot the lights out. If you want to run him at off guard, you need to pair him with a pure point guard to set him up. A Flynn/Curry or Rubio/Curry backcourt would have had a real chance at working. Rubio/Flynn would serve as the playmaker, while Curry's shooting would create space for Al Jefferson and Kevin Love to work in the post. Defensively, a backcourt like that would have its share of problems, but at least it would make sense on the other end of the court.
I just don't think a Rubio/Flynn backcourt will work. Both players are ball-dominant and neither guy shoots the ball very well. Rubio isn't strong enough to cover most opposing shooting guards and Flynn isn't tall enough to cover big guards on the block. Throw in the fact that Rubio doesn't sound too thrilled about the prospect of playing in Minnesota, and Kahn might have one big mess on his hands.
Here is some more commentary about Minnesota's first two picks…