UFC 101 Preview and Predictions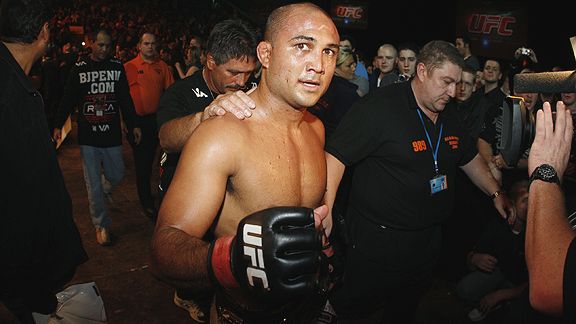 The Ultimate Fighting Championships presents UFC 101: Declaration tonight from the Wachovia Center in Philadelphia, Penn.
The main card features five strong fights with a pair of blockbuster matchups headlining the event.
Here are my picks and predictions for UFC 101, as well as the bantamweight championship fight taking place on Sunday for the WEC.
Lightweight Championship (155 pounds) – B.J. Penn (13-5-1) vs. Kenny Florian (12-3): B.J. Penn is considered the best in the world at 155 pounds and there is no arguing that. Florian is Penn's top challenger for the belt, but Florian seems outmatched in every aspect of the fight. Penn is eager to erase his devastating loss to Georges St. Pierre last January and a dominant win over Florian would do just that. Penn has better stand up with his speed and quick jab and his ground game is better as he is a world champion in Brazilian Jiu-Jitsu. The one area that Florian may be better is in conditioning, where Penn has been suspect for years. Florian will make it a tough fight for Penn, but in the end I see Penn winning by choke in round three.
Follow the Scores Report editors on Twitter @TheScoresReport. You can also follow TSR editor Gerardo Orlando @clevelandteams and @bullzeyedotcom, and you can follow TSR editor Anthony Stalter @AnthonyStalter.
Picture of the Day
Enjoy a daily photo from Bullz-Eye.com of one of their beautiful models.
Improve your game today!
You've got to brush up on your game to get the girl! Find your hookups with this online dating guide.
Sexy Girls and Cars
Check out this slideshow of hot babes and cool cars.