Tyler Gabbert decides on Louisville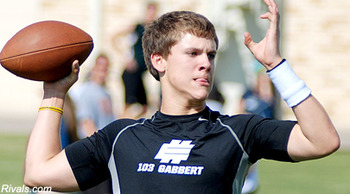 It took him nearly two months to make a decision but Tyler Gabbert finally has a new home.
Gabbert, the younger brother of Jacksonville Jaguars' rookie Blaine Gabbert, has officially decided to transfer to Louisville. He will be eligible to play in the 2012 season and will have three years of edibility remaining.
The 6-foot, 190-pound Gabbert was a redshirt freshman competing against sophomore James Franklin to exceed Blaine Gabbert, who was the 10th overall pick in April's NFL draft. Franklin had been elevated to the top of the depth chart after a strong performance in the Tigers' spring game, but Missouri's coaching staff said that the competition would re-open in August. That's why it was a bit of a surprise when Tyler Gabbert announced his intentions to transfer.
Louisville head coach Charlie Strong tweeted that he is "excited to have Tyler Gabbert officially join our football program."