Should the Cavs acquire Antawn Jamison or Troy Murphy?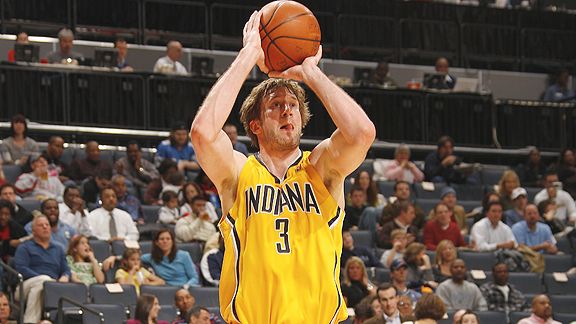 ESPN's Chad Ford breaks down the 25 impact players most likely to be traded before the NBA's Feb. 18 trade deadline. [Insider subscription required.]
1. Antawn Jamison, F, Wizards
Jamison is at the top of this list for three reasons. First, the Wizards are a mess and seem to be moving rapidly toward a fire sale. Second, Jamison is in the latter stages of his career. Neither he nor the Wizards want him stuck on a terrible team. Third, a number of contenders want him, namely the Cavs. That's the perfect recipe for a big deadline trade.

2. Troy Murphy, F, Pacers
The Pacers look as though they're moving toward a youth movement as they continue to build around Danny Granger. With a number of contending teams interested in Murphy, the Pacers seem to be in the right place to make a deal. While Murphy may be overpaid, there are few bigs in the league that can rebound and spread the floor the way he can. With just one more year left on his contract, Murphy could be the missing piece for a team trying to compete for a title.

The Cavs seem to have the most interest, though several other teams have also told me they'll make a run at him. At the very least, the Pacers should be able to deal Murphy for expiring contracts and one asset (either a draft pick or a young prospect).

3. Tayshaun Prince, F, Pistons
Joe Dumars didn't expect the Pistons to be championship contenders this season. But he also didn't anticipate the team losing 13 games in a row. The fact that the Pistons drafted three small forwards in last year's draft and that two of them — Jonas Jerebko and Austin Daye — look very promising is all you need to know. The word on the street is that the Pistons are in very active trade discussions on Prince.

While the team would prefer to move Richard Hamilton, I don't think they're going to be able to find a home for him given his enormous contract. If the Pistons can swap Prince for some help in the paint, they've got to do it. The combination of Charlie Villanueva, Jason Maxiell, Ben Wallace and Kwame Brown just isn't getting it done.
It makes sense that Jamison is more likely on his way out of Washington than his teammate, Caron Butler. Butler is younger (29) and has a better contract, and the Wizards could actually build around him for 3-4 years if they chose to do so.
It looks like Ford believes that there's a good chance that the Cavs will end up with either Jamison or Murphy. Both are power forwards who can spread the court with good outside shooting.
Here is what John Hollinger had to say about Jamison's defense:
If Jamison has a weakness, it's his defense, and the absence of Brendan Haywood last year magnified that problem. He's a disinterested help defender who rarely blocks shots or takes charges, and quicker forwards beat him off the dribble easily because his lateral movement isn't great. He does a decent job on the boards and doesn't foul, but he needs to be paired with a big, tough center to hide his shortcomings.
And here are his thoughts about Murphy on that end of the floor:
While he's a tremendous rebounder with a strong frame and a knack for positioning, his lack of foot speed hurts him at the defensive end, too. He struggles to contest shots or defend long post players and is particularly bad at moving laterally to defend pick-and-rolls.
To sum up, Murphy is a better three-point shooter (40% to 35%), but Jamison is probably better able to match up with Rashard Lewis, who gave the Cavs fits in last year's playoffs. Murphy has one more season at the tune of $12.0 million, while Jamison has two more years and $28.4 remaining on his contract. Murphy (29) is four years younger than Jamison (33).
Acquiring Murphy would allow for more flexibility in a year or two, but with LeBron's future up in the air, Danny Ferry should make a move for the player he thinks is most able to help the Cavs win a championship now. Maybe it's Murphy, maybe it's Jamison. They both bring different things to the table.