How much longer until T.O. tries to ruin Trent Edwards' life?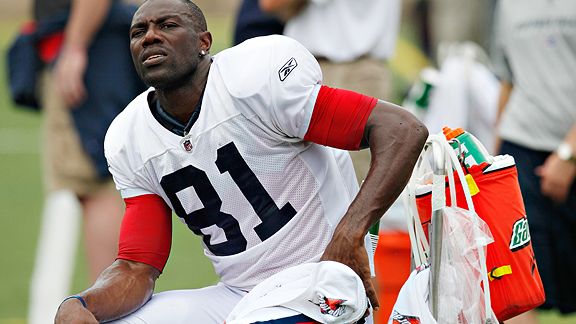 Zero receptions, 0 yards, 0 touchdowns. That was the stat line for Terrell Owens in the Bills' 27-7 loss to the Saints on Sunday.
For the season, T.O. has five catches for 98 yards and one touchdown, which are rather pedestrian numbers for one of the best receivers in the league.
Don't think for a second that Owens is going to let this fly. He figured that when he signed with the Bills this offseason, that he would be the center of their offense. But so far, he isn't even quarterback Trent Edwards' fourth option in the passing game.
When asked about Edwards' decision-making following the loss, T.O. said: "I don't want to answer that, because whatever I say you guys are going to turn it into however you want to say it."
Don't worry T.O., because we can still read between the lines. You're pissed off and don't like the play calling. You don't think Edwards is making wise decisions and you want to have a bigger role in the offense.
Eventually, Owens will say all of this himself. If Tony Romo couldn't keep him happy, then Edwards sure as hell won't. I don't blame the Bills for taking a shot on him in the offseason (what did they have to lose?), but they're about to see the real T.O. emerge soon if he continues to be a ghost in their offense.
As for the Saints, it was nice to see Pierre Thomas rush for 126 yards and two touchdowns on 14 carries. As long as he's healthy, he needs to be a part of their offense, especially on a day where Drew Brees (16 of 29, 172 yards, 0 TDs) looked human.
Hopefully Sean Payton won't shelve Thomas once Mike Bell is healthy again.