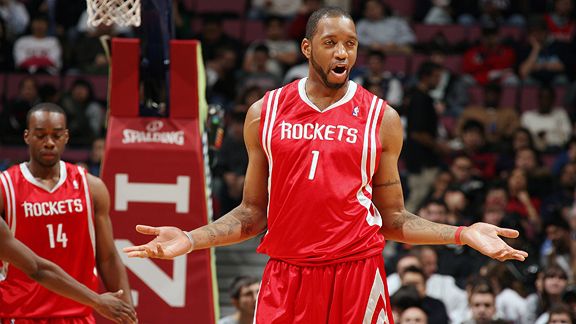 Well, it's been another one of those years for Tracy McGrady — the guy just can't stay healthy. Now he says he needs microfracture surgery on the same knee he had scoped in May of 2008.
McGrady had arthroscopic surgery on the knee last May and has been slow to recover. The seven-time All-Star missed much of January trying to get the knee back in shape and had an MRI last week to try to discover why it was still bothering him.

"The last couple of games, I've regressed," McGrady said during halftime of last Wednesday's game. "I've felt pain."

McGrady's numbers are down across the board this season. He is the Rockets' third-leading scorer at 15.6 points per game and is averaging 4.4 rebounds and 5.0 assists per contest. He is shooting a career-worst 39 percent from the field.
Recovery from microfracture surgery can be as short as four months for some patients to eight months or longer depending on the severity of the injury and damage to the surrounding cartilage. If McGrady has the surgery now, he'd have eight months to recover before the start of the 2009-10 season.
The Rockets are currently 5th in the Western Conference playoff race, but are just three games ahead of the Suns, who are sitting in the 9th spot.