Tony Gonzalez chats with The Scores Report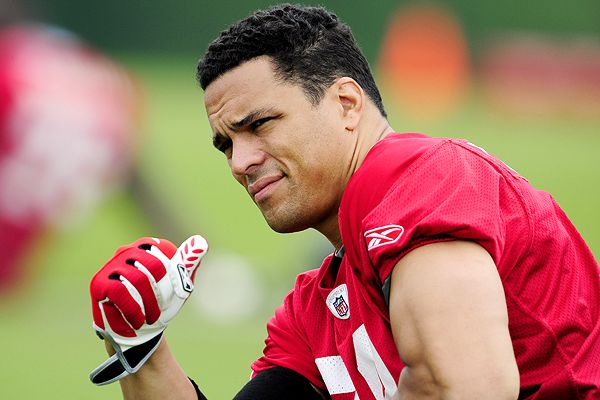 Three years ago, future Hall of Fame tight end Tony Gonzalez went through two unrelated crises that would change the way he viewed his own health forever.
In early 2007, Gonzalez suffered a bout of facial paralysis known as Bell's Palsy, which cannot be immediately diagnosed. Before doctors figured out what it was, they told him he might have suffered a stroke, a brain aneurysm, or meningitis. When it was discovered that it was Bell's Palsy, he was told that the numbness and sagging features in his face would return to normal. For the most part, Gonzalez felt extremely lucky that it wasn't something more serious.
Later that year, as a member of the Chiefs, Gonzalez went to have routine blood work done before the regular season. Upon leaving the hospital, he received a phone call from the team's trainer saying that he had to return immediately for another blood test. While giving more blood, the doctor told him that unless the initial test was wrong, that his career was over.
For an hour, Gonzalez waited in agony thinking about how football may be taken away from him. Fortunately, there had been a mix up with another patient and his tests came back normal, but the two traumatic experiences left him feeling as though a change had to be made. Regardless of whether or not he was okay, he knew he had to take better care of his body.
Now, after enlisting the help of dietitian Mitzi Dulan, Gonzalez has his own line of all-natural supplements through his company, All-Pro Science. All the products are 100% all-natural, meaning no synthetics or man-made sugars have been added. There isn't another supplement maker like APS on the market, because most companies don't strive to go all-natural.
Tony was kind enough to recently chat with us about All-Pro Science, his new book The All-Pro Diet, as well as how eating healthy has dramatically changed his life. He was also more than willing to talk football with us, including what the 1,000-reception mark means to him (he's just one catch shy of the honor), what he would like to be remembered for when his playing days are done and what he thinks about Falcons' quarterback Matt Ryan's development. He also shed some light on whether or not he'll return to football after the 2010 season and boasts that this year's Falcons squad is the best team he's ever played on.
For more information on All-Pro Science and their products, click on the link to check out their home page. Tony was kind enough to give our readers 20% off on his products by entering code "88" at the site. And for more on Gonzalez and the Falcons, visit Tony's official Twitter Page.