Reilly: Woods needs to clean up his act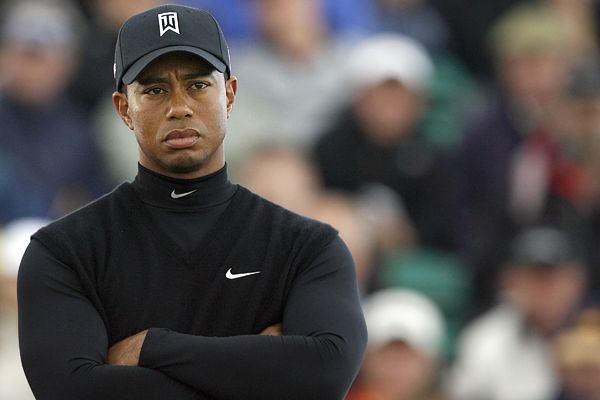 In one of his recent articles for ESPN.com, Rick Reilly took aim at Tiger Woods and his constant temper tantrums on the course.
The man is 33 years old, married, the father of two. He is paid nearly $100 million a year to be the representative for some monstrously huge companies, from Nike to Accenture. He is the world's most famous and beloved athlete.

And yet he spent most of his two days at Turnberry last week doing the Turn and Bury. He'd hit a bad shot, turn and bury his club into the ground in a fit. It was two days of Tiger Tantrums — slamming his club, throwing his club and cursing his club. In front of a worldwide audience.

If there were no six-second delay, Tiger Woods would be the reason to invent it. Every network has been burned by having the on-course microphone open when he blocks one right into the cabbage and starts with the F-bombs. Once, at Doral, he unleashed a string of swear words at a photographer that would've made Artie Lange blush, and then snarled, "'The next time a photographer shoots a [expletive] picture, I'm going to break his [expletive] neck!"

It's disrespectful to the game, disrespectful to those he plays with and disrespectful to the great players who built the game before him. Ever remember Jack Nicklaus doing it? Arnold Palmer? When Tom Watson was getting guillotined in that playoff to Stewart Cink, did you see him so much as spit? Only one great player ever threw clubs as a pro — Bobby Jones — and he stopped in his 20s when he realized how spoiled he looked.

This isn't new. Woods has been this way for years: swearing like a Hooters' bouncer, trying to bury the bottom of his driver into the tee box, flipping his club end over end the second he realizes his shot is way offline.

I know what you're saying. We see more Tiger tantrums because TV shows every single shot he hits. And I'm telling you: You're wrong. He is one of the few on Tour who do it. And I keep wondering when PGA Tour commissioner Tim Finchem is going to have the cojones to publicly upbraid him for it.
I liked this piece by Reilly. Of course, I liked it better when Mark Kiszla of the Denver Post wrote about in early April after Tiger pissed and moaned through the Masters.
I wouldn't go as far as to say that Reilly plagiarized (he definitely didn't) or ripped off Kiszla because after all, the same sports topics are brought up ad nauseam on a daily basis and therefore there is bound to be some crossover. But read Kiszla's piece, then Reilly's, and then tell me there aren't some obvious similarities.
Again, this isn't to say that Reilly can't touch on a subject that has already been talked about before (after all, we bloggers do it all the time). But we've seen this kind of lazy writing before from Reilly, most notably when he (essentially) reused a story he wrote for SI in 2003 as a "new" article for ESPN.com in May of this year. It drives me nuts how some believe that this guy is one of the most creative and innovative writers in the business and his work is often lacking.
Getting back to Tiger, would it be nice if he were a statue after hitting a bad shot? Yeah – it would be great if we didn't have to watch him channel his inner Happy Gilmore every time he nailed one into the rough. But even though he's a bit of a sore loser, Woods is an immense competitor and if guys like Reilly and Kiszla weren't writing about his temper tantrums, they'd probably be criticizing him for not showing more fire and emotion when he plays.
At this point, I think Tiger is so good that some writers are going to try to find ways to criticize him any way they can. After all, how many times can you write about how amazing he is? Again, it would be nice if he showed a little more class on the course, but to say he's disrespecting the game is a bit much. The guy is a model citizen (as Reilly points out) off the course so I'm going to give him a mulligan (corny pun phase initiated) for his club-throwing temper tantrums.