Spurrier the one who didn't vote Tebow All-SEC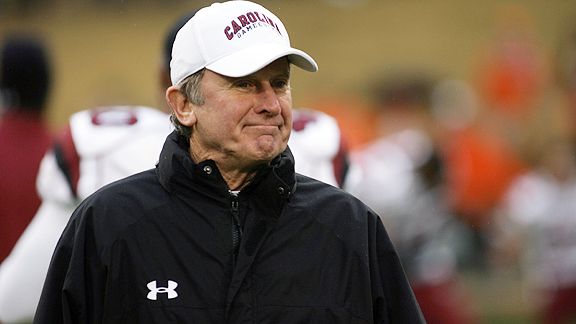 One of the greatest unsolved crimes in sports history now has a resolution. We can now put our children to bed at night without this shroud of mystery hanging over our heads and breathe a sigh of relief knowing that a major villain has been outed for his crime against humanity.
That's right, folks: We now know the one person who didn't vote for Florida's Tim Tebow as All-SEC quarterback. And it wasn't that punk Lane Kiffin, nor was it that weasel Bobby Petrino either. Hell, it wasn't even Nick Saban, who can't step one foot inside Baton Rouge or Miami without somebody wanting to shove a first down marker where the sun don't shine.
Nope, it was Steve Spurrier…well, kind of. Apparently it wasn't actually him, but the director of football operations he had vote for him. Whoops.
Spurrier explained that his director of football operations had filled out the ballot and brought it in to him. Spurrier said he glanced at it, signed off on it, and then realized his mistake much later.

The ballot submitted to the SEC from South Carolina had Mississippi's Jevan Snead as the first-team quarterback, and not Tebow.

"I take full responsibility," he said, emphasizing that he believed Tebow to be one of the best quarterbacks in Florida history. "I'm embarrassed about it, I feel badly about it … I apologize to Tim Tebow."

SEC associate commissioner Charles Bloom confirmed to ESPN.com that Spurrier called within the past 24 hours and asked that his ballot be changed to include Tebow as the first-team quarterback. Spurrier told Bloom that his initial ballot, with Snead as the first-team quarterback, was a mistake.
If you couldn't tell by the sarcasm I used at start of this article, I don't think this is a big deal. It's just a preseason honor and I highly doubt Tebow is losing sleep over this. It's nice that Spurrier tried to correct the mistake and owns up to it, but again, this is hardly worth getting upset about.
But perhaps an underlying issue (and Pat Forde touched on it in the ESPN article) here, is that these coaches continue to let other people in their programs vote for things like all-conference nominations and even the USA Today Coaches Poll. So you have a director of operations having a stake in which teams could potentially play for a national title, and not the coaches themselves.
This is just reason No. 1,900,340,000 why the BCS system is an absolutely joke. We need a playoff.
By the way, how does Jevan Snead feel right about now? If I'm him I'm like, "A mistake? Gee, thanks Spurrier – tell me how you really feel you son of a bit…"