Stephen Jackson traded to…the Bobcats?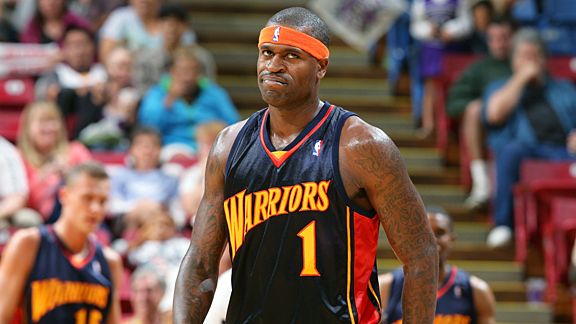 So much for Jackson's wish to be traded to a contender. He's headed to Charlotte as part of a four-player trade.
In a deal that NBA front-office sources said came together quickly Sunday night and received the needed league approval Monday morning, Golden State sent Jackson and guard Acie Law to the Bobcats in exchange for veteran swingmen Raja Bell and Vladimir Radmanovic.
Let's see — Jackson has three years left at the tune of $28 million. Radmanovic has one year left for $6.9 million and the other two players (Bell and Law) are free agents after this season. So the Warriors are going to save about $21 million with this move, assuming they don't re-sign either of the incoming players.
Radmanovic isn't a bad fit for the Warriors in that he can shoot from long range and can't play any defense. Bell is known as a hard-nosed defender but his best years are behind him.
Jackson has a reputation for being something of a malcontent, and he asked to be traded to a contender (only he goes to a bottom-feeding Charlotte franchise). If you're running the Bobcats, why do you make this deal? What are the odds that this works out?
The Bobcats do get a versatile scorer. Charlotte is last in the league in scoring (82.4 ppg) and shooting percentage (39.4%), so he'll help in the short term, but I don't see how this improves the franchise in the long term. Jackson turns 32 this season, so he'll be 35 when his contract expires, and his deal will drastically reduce the team's cap space in the summers of 2011 and 2012.