2009 CFB Preview: Virginia Tech Hokies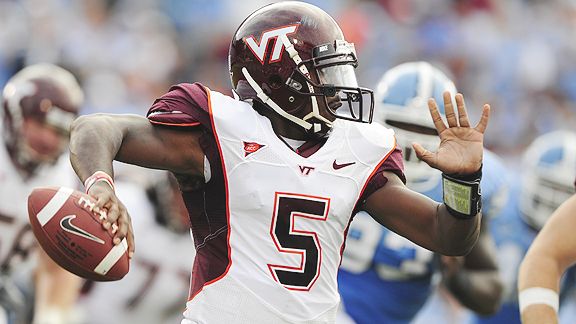 Check out our other 2009 college football previews.
Preseason Ranking: No. 7 in AP Top 25; No. 7 in USA Today Poll.
Key Returning Players: Tyrod Taylor (QB); Darren Evans (RB); Jarrett Boykin (WR); Danny Coale (WR); Greg Boone (TE); Blake DeChristopher (OT); Ed Wang (OT); Sergio Render (G); Cody Grimm (LB); Cam Martin (LB); Jason Worilds (DE); John Graves (DT); Cordarrow Thompson (DT); Stephan Virgil (CB); Kam Chancellor (S); Dorian Porch (S).
Key Losses: Victor "Macho" Harris (CB); Orion Martin (DE); Purnell Sturdivant (LB); Brett Warren (LB); Dustin Keys (K); Nick Marshman (G); Ryan Shuman (C).
Player to Watch: Tyrod Taylor, QB.
Darren Evans' name would have been listed here, but the running back tore his ACL in practice and will miss the entire 2009 season. That said, it's just as easy to wax poetically about Taylor's potential, as it would have been Evans'. In his third season as VA Tech's signal caller, Taylor (and his coaching staff) wants to be a complete quarterback. In his final couple of games last year, things seemed to have clicked for Taylor, who doesn't have to worry about splitting time with Sean Glennon this season. Taylor is a dual-threat and if he can take the next step as a passer, the Hokies will compete for a national title.