2010 BCS Bowl Preview: 5 Things to Watch for in the National Championship Game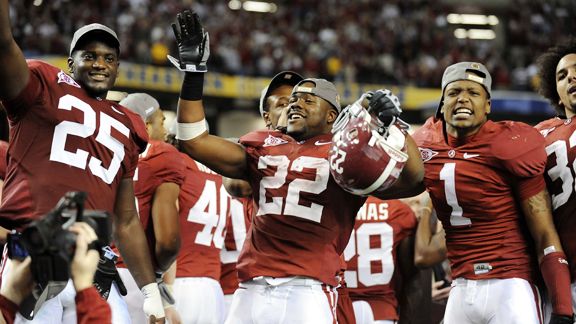 For the first time since the 2006 Rose Bowl, two undefeated teams will square off in the BCS national championship game when No. 1 Alabama takes on No. 2 Texas on January 7. To conclude our 2010 BCS Bowl Preview, here are five things to watch for in the 2010 title game.
1. Can McCoy rebound?
Senior quarterback Colt McCoy hasn't had many bad outings throughout his collegiate career, but Nebraska's defense dominated him in the Big 12 title game. He completed 20 of his 36 pass attempts but it went for only 184 yards and zero touchdowns. He also threw three interceptions as he struggled with his decision-making and his pre-snap reads. It's not a total shock that McCoy had problems moving the ball on the ninth best defense in the nation, but how will he fair against an Alabama D that ranks second in the country? The Crimson Tide have allowed just 11 points per game this season (best in the NCAA) and just 163.77 passing yards per game. There's no doubt 'Bama will study what Nebraska did against McCoy and employ similar tactics to slow him and Texas' offense down. Can the senior QB overcome his poor outing in the Big 12 championship and lead his team to victory or will the Tide defense abuse him just like the Cornhuskers did?
2. The Heisman winner vs. the No. 1 run defense in the nation
One of the marquee matchups of the bowl season will pit Heisman Trophy winner Mark Ingram against the Longhorns' No. 1 run defense. Texas has allowed just 62.15 rushing yards per game this season, while Ingram has averaged 118.62 YPG. At times, Ingram has been the Tide's only offense this season. But what happens if the Longhorns limit Ingram's effectiveness and force quarterback Greg McElroy to beat them through the air? More on that question…
Follow the Scores Report editors on Twitter @TheScoresReport. You can also follow TSR editor Gerardo Orlando @clevelandteams and @bullzeyedotcom, and you can follow TSR editor Anthony Stalter @AnthonyStalter.
Picture of the Day
Enjoy a daily photo from Bullz-Eye.com of one of their beautiful models.
Improve your game today!
You've got to brush up on your game to get the girl! Find your hookups with this online dating guide.
Sexy Girls and Cars
Check out this slideshow of hot babes and cool cars.