Braun calls out Brewers' pitching staff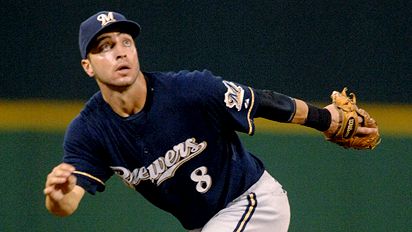 Following the Brewers' 8-2 loss to the punch less Cubs on Sunday, Milwaukee outfielder Ryan Braun called out his pitching staff and said that he hoped the club would make a move to acquire more help.
"Their starting pitching is a lot better than ours," Braun said after the Brewers were beaten 8-2 Sunday. "They threw the ball a lot better than our starters did. They certainly swung the bats better than we did. Clearly they were the better team. It's nice to get the one win but they clearly outplayed us and outperformed us all series."

"No matter who is in there, we have to find a way to throw the ball better for us to have success," said Braun. "I think when you're constantly behind in games, it's not easy and it's not fun. Their starting pitcher was clearly better than ours this series."

The Brewers host St. Louis for a three-game series beginning on Tuesday and Braun is hoping Brewers general manager Doug Melvin makes a move soon to improve the Brewers.
"I wish I got to make decisions like that. But I know he's trying to make our ballclub better," Braun said. "I know he understands the significance of making a move and making it soon."
Considering Braun is hitting .326 with 16 home runs and 58 RBI, he's certainly doing his part to help the Brew Crew win. He's also entitled to vent his frustrations after Milwaukee's pitching staff gave up 21 runs in four games to a Chicago team that couldn't itself out of a wet paper bag the past couple of weeks.
Braun's right – the pitching staff has been brutal lately, but him calling out his teammates is a slippery slope. As long as his 'mates respect Braun as a leader (which is totally different than respecting him as a player), then his comments will probably inspire. But if they view him as a star shooting off his mouth, then the backlash isn't going to help the Brewers in the long run.
Who knows, maybe Braun's comments are exactly what the pitching staff needed to hear to get their act together. We'll see if what he said has a positive or negative (or neutral) affect on the club.