Federer wins title in Cincinnati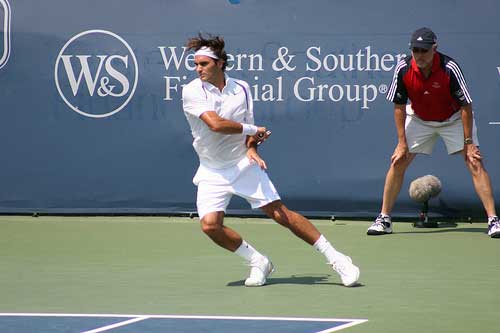 Roger Federer continued his dominant season, defeating Novak Djokavic to capture his third Western & Southern Financial Group Masters in Cincinnati.
The 28-year-old Federer is the fourth player to win at least three titles at the Western & Southern Financial Group Masters in the Open Era (since 1968). He has now won 16 ATP World Tour Masters 1000 titles (16-9 overall), second only to Andre Agassi's 17, and 61 tour-level titles during his career (61-22 lifetime).

Federer cruised through the 33-minute first set, which included a 13-minute second game. Djokovic saved six of seven break points but Federer made the breakthrough and went on to secure a second service break in the fourth game. Federer won 16 of 19 service points, while Djokovic clinched his third service game to avoid a 6-0 set.

The Swiss superstar has a 202-60 match record since playing his first ATP World Tour Masters 1000 tournament at the 1999 Sony Ericcson Open in Miami. He trails only Agassi (209 wins).

Federer, who has been No. 1 in the South African Airways ATP Rankings for 244 weeks – fourth all-time behind Pete Sampras (286), Ivan Lendl (270) and Jimmy Connors (268), has captured three titles this year at ATP World Tour Masters 1000 Madrid (d. Nadal), Roland Garros (d. Soderling) and Wimbledon (d. Roddick).
Well, ladies and gents, it looks like we have a favorite going into the 2009 U.S. Open. Of course, this has already been a remarkable year for Fed, regaining his No. 1 ranking and becoming the Grand Slam record holder. That's all well and good, but I'm hoping Federer doesn't cruise through the U.S. Open. His loss to Rafael Nadal in the final at the Australian Open was great, as was his victory over Andy Roddick in the final at Wimbledon. Still, it's seemed like he's had an easy time since Nadal took some time off to nurse his knees. Thankfully, Andy Roddick has had a surprising year, giving the fans another epic Wimbledon final, nearly beating the Federer on his favorite surface.
Hopefully, Nadal can regain his prowess and make a run at the U.S. Open, the only Grand Slam he's never won. Federer's secured his place in the pantheon of tennis, so now I don't feel like a have to root for the guy in every match. I'd like to see the wealth spread a little. Where you at Roddick and Blake?
Posted in: Tennis
Tags: 2009 Novak Djokovic, 2009 Roger Federer, 2009 U.S. Open, Cincinnati Masters, Novak Djokavic Cincinnati, Novak Djokovic, Novak Djokovic U.S. Open, Roger Federer Cincinnati, Roger Federer U.S. Open, Roger Federer. Roger Federer vs. Novak Djokovic, Western and Southern Financial Group Masters