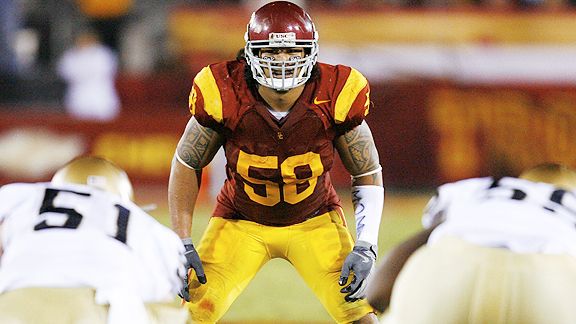 Intensity escapes the best of us. The amount of focus required to sustain a level appropriate for something as aggressive as collegiate football defense is hardly something to write off. Where does it come from? Can it be taught or learned? I'd like to hope so, though it seems a bit of a catch-22 in that in order to be intense enough to learn to be intense we must first be intense enough not to need to learn at all.
In any case, for those lucky enough to have it, raises seem to drop out of the sky and skirts appear to fly up into it. Rey Maualuga has it, and that's gonna have to suffice for now since I am unaware of every single thing he does in his personal time (probably getting that 10% increase I should have had after landing the Gibson account). He's been using that, along with his considerable speed and strength, to run roughshod over offensive lines and make tackles that look like Cthulu versus Howdy-Doody.
Well, maybe his past will give us a bit of a hint as to where this ferocious ability was acquired. Born on a military base in Oklahoma (OK, must be a lot of aggression and discipline there) to American Samoan parents, Maualuga then moved to Hawaii (you lost me). He reportedly began playing football in middle school after noticing that all the popular kids carried their pads to school. OK, that's not that intense, reminds me of the reason I listened to Dave Matthews Band for a year.
Posted in: College Football, Fantasy Football, NFL, NFL Draft
Tags: 2009 NFL Draft, NFL Draft, Rey Maualuga, Rey Maualuga bio, Rey Maualuga Draft, Rey Maualuga profile, Trojans, USC