2010 BCS Bowl Preview: 5 Things to Watch for in the Rose Bowl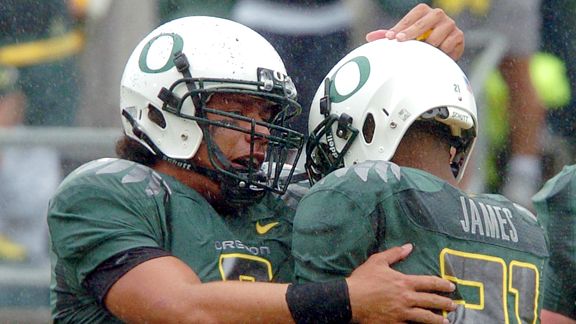 Big Ten champion Ohio State will square off against Pac-10 champ Oregon in the 2010 Rose Bowl on New Year's Day at 4:30PM ET. Here are five things to watch for when the No. 8 Buckeyes clash with the No. 7 Ducks.As part of our 2010 BCS Bowl Preview, here are five things to watch for in the Sugar Bowl.
1. Oregon's dynamic backfield vs. Ohio State's physical defense
The Ducks' offensive backfield features a running back in LaMichael James that rushed for 1,476 yards and 14 touchdowns while averaging 6.9 YPC, as well as a quarterback in Jeremiah Masoli that rushed for 659 yards and 12 TDs, while also completing 58.9 percent of his passes for 2,066 yards and 15 scores. Oregon can beat opponents in a variety of ways, but Ohio State's defense limited the opposition to only 12.2 points and 262.5 total yards per game this season. The Buckeyes are one of five FBS teams that did now allow a 100-yard individual rushing performance this year and will test the fortitude of James, Masoli and one-time Hesiman candidate LeGarrette Blount. This should be a classic battle.
2. Terrelle Pryor's (lack of) development as a passer
Pryor was considered the top high school recruit coming into the 2008 season and was supposed to quickly transform into one of the best college football players in the nation. But after showing flashes of brilliance as a freshman last year, Pryor has been criticized more than he's been praised this season. Among other things, he started struggling with his accuracy and decision-making and some in the media wondered if he should move to another position due to his lack of development as a quarterback. Things came to a head in mid October when he lost two fumbles and threw two interceptions in an embarrassing loss to Purdue. But in his final five games, Pryor led the Buckeyes to five straight wins (including victories over Penn State, Iowa and rival Michigan) while tossing six touchdowns and only two interceptions. The problem is that he wasn't asked to do too much either. If Oregon's high-powered offense starts lighting up the scoreboard, can Pryor keep Ohio State in the ballgame with his arm or will his issues as a passer bury him and the Buckeyes? Better yet, can coach Jim Tressel figure out how to best use his athletic QB?