This dude is really, really high on Percy Harvin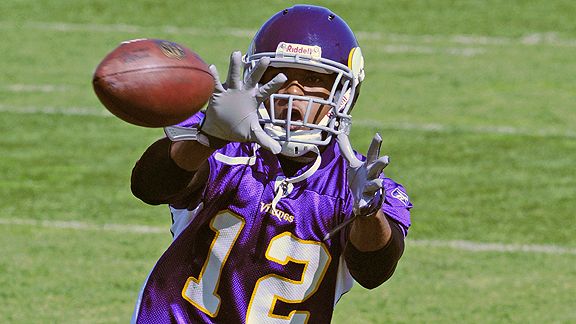 I didn't put him on my list of late-round sleepers, but after reading this glowing piece on Rotoworld, maybe I should.
If Harvin's special talent is undeniable, then why is his ADP still hovering around the late eighth to early ninth round? A long-accepted maxim in fantasy football circles states that rookie wide receivers will always be over-valued on draft day because the production fails to match the hype. Randy Moss and Anquan Boldin serve to remind us that they're the exception, not the rule. Receivers take too long to get acclimated to their new offenses, coaches and quarterbacks don't quite trust them, and they simply don't touch the ball enough to accrue fantasy value.

But what if a rookie receiver came along who already had the trust of his coaches, immediately showed a high football IQ, was already incorporated as a major component of the offense, and was set to touch the ball 10-12 times per game? We're talking about not only a unique talent, but a receiver playing a newly invented position: the Percy Position.

Early indications are that the Vikings will use Harvin in much the same that Florida did. As soon as Harvin was drafted, head coach Brad Childress called offensive coordinator Darrell Bevell and asked, "Hey, where's the list?" The list contained 20-to-30 plays – including 10-to-15 new plays – specifically designed to get the ball in Harvin's hands in space. As the Vikings installed the Percy Plays during OTAs, Harvin stole the show. "I think the first thing I thought about was really the same feelings the first time we handed Adrian Peterson the ball," Childress said. "When you see it with your own eyes … the thing that came to mind right away was, Wow."
If he does average 10-12 touches a game, he's going to be fantasy starter worthy. Figure six carries at about five yards a carry and four catches at about 8-10 yards per catch, and Harvin has about 62-70 total yards (6.2-7.0 points), four catches (4.0 points) and maybe a TD. Other than Adrian Peterson, the Vikings don't have too many playmakers on offense, so it's reasonable to think that Childress will get Harvin the ball early and often. This might be a case where it's okay to draft a rookie WR in the middle rounds.