Panthers' issues on full display in Monday night loss to Cowboys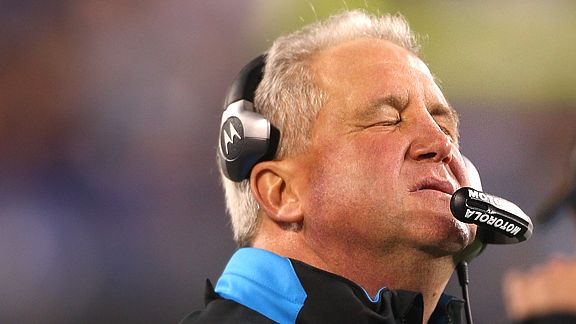 For those who couldn't tune into Monday night's game between the Cowboys and the Panthers, you didn't miss much.
The Cowboys were sloppy, the Panthers were sloppier and thus Dallas won the ultimate snooze fest 21-7. Victories are hard to come by in the NFL, but if I were Wade Phillips or Jerry Jones, I wouldn't be breaking out the party favors and bubbly after this one.
The Panthers are bad – real bad. And it's not fair to pin all of their problems on Jake Delhomme, who threw two more interceptions tonight to run his season total to 407. Delhomme has been bad, but he's hardly the only reason why Carolina is 0-3 right now and has little to no chance of repeating as NFC South champions.
The Panthers might as well cheat and set up speed bumps on every play, because their run defense is horrible. The Cowboys rushed for 212 yards tonight on 32 carries (6.6 YPC) without Marion Barber as Carolina made Felix Jones and Tashard Choice look like Bo Jackson and Marcus Allen.