SI.com: 20 best MLB decisions of the past year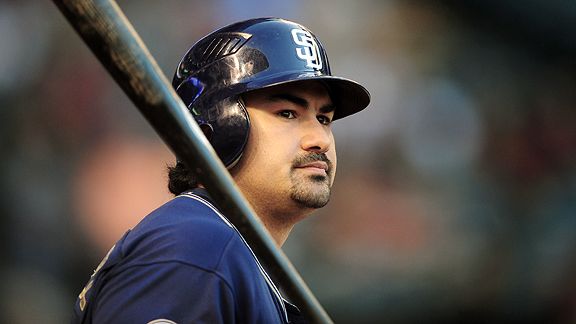 SI.com's Jon Heyman put together a list of the 20 best decisions made by MLB teams over the past year.
His No. 1 was the Nationals' signing of Stephen Strasburg, while his No. 2 was the Cubs' decision to trade Milton Bradley to the Mariners in exchange for pitcher Carlos Silva (who is leading the club in wins, ERA and WHIP).
Heyman's No. 4 best decision involves a team that has been one of the bigger surprises so far this season:
4. The Padres' decision not to trade Adrian Gonzalez and/or Heath Bell

Everyone assumed new Padres GM Jed Hoyer would want to make a big splash and set the team up for the future by trading All-Star 1B Adrian Gonzalez, who could bring a haul with his reasonable contract ($10 mil over two years) and big-time talent. Word supposedly was that Hoyer had an obvious landing spot in his old haunt in Boston, where Hoyer had been an assistant GM and knew the system. That assumption was supposedly bolstered by Padres marketing materials that allegedly omitted Gonzalez.

However, Hoyer and Padres decision-makers held both Gonzalez and top reliever Heath Bell, fortified the rotation by adding stable veteran Jon Garland and kept their fingers crossed. To everyone's surprise — except maybe San Diego's brass — the Padres have been at or near the top of the NL West all year. Hoyer didn't disrupt what former Padres GM Kevin Towers built in San Diego to satisfy his ego. Instead, he did the prudent thing. Just because Towers was fired by new owner Jeff Moorad doesn't mean he did a bad job. It turns out there were some very good pieces in place, including what appears to be the majors' best bullpen.
There is still some concern in San Diego that the Padres will be sellers at the trade deadline, but if they stay in contention in the NL West it's hard to envision that happening. This is just speculation on my part, but I have to believe that if Hoyer does make a big move (i.e. trading Gonzo and/or Bell), it won't come until after the season.
Until then, the Padres' current roster will have every opportunity to make a run at the postseason this year.