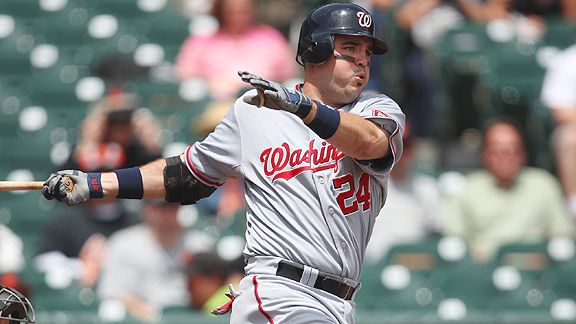 According to FOX Sports.com, the Marlins have acquired first baseman Nick Johnson from the Nationals in exchange for Double-A left-hander Aaron Thompson. Washington will also pay the remainder of Johnson's salary.
This is a nice trade for both clubs. For the Marlins, they get a solid bat in Johnson (when healthy of course) to help Hanley Ramirez at the top of the lineup. Florida now has a nice 1-2-3 punch in the middle of their order with Johnson, Ramirez and Jorge Cantu.
Not only that, but the Nationals reportedly wanted Ryan Tucker in a deal for Johnson, who is a much better prospect than Thompson. So for the Marlins to not only acquire Johnson and get the Nats to pay the remainder of his salary, but also not have to give up a prospect like Tucker was a win-win-win.
In the end, this was a nice move for Washington as well. Johnson becomes a free agent at the end of the season and while he's a solid hitter, he's been injury-prone for most of his career and the Nats still got a decent prospect (Thompson) in return. They essentially got something for nothing seeing as how Johnson wasn't going to be a part of the club next year anyway.