NFL Training Camp Notes: Russell reports out of shape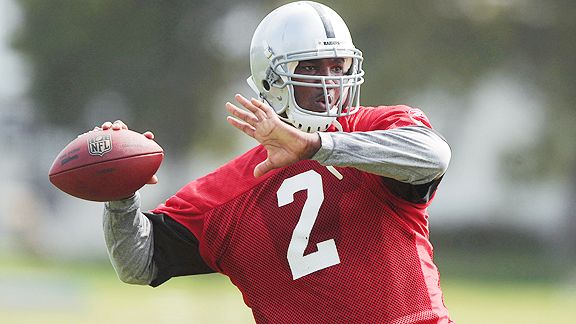 Oakland Raiders:
– Raiders quarterback JaMarcus Russell admitted that he reported to camp "a little heavy." Hey JaMarcus, I know Jeff Garcia doesn't look like much but he's gunning for your job and I highly doubt he reported to camp "a little heavy."
– The Raiders agreed to terms with rookie first round pick Darrius Heyward-Bey on a five-year contract. Now he can get busy on trying to make Al Davis look good for taking him instead of Michael Crabtree with the seventh overall pick in April's draft.
Michael Vick:
– Free agent Michael Vick told the AP that he is getting close to deciding on a team to sign with. It's unclear at this point if Vick meant an NFL team, or a flag football team in the Newport News, Virginia area.
New York Jets:
– Running back Thomas Jones reported to training camp on time despite skipping voluntary OTA sessions this spring. While this certainly doesn't mean Jones is happy about his situation in New York, it appears that he'll be in a Jets uniform this season and will be one leg of a tripod that also includes Leon Washington and Shonn Greene.
– Speaking of Washington, the New York Daily News confirms that the Jets are close to finalizing a contract extension with the running back.
New England Patriots:
– As expected, Tom Brady participated in the Pats' first training camp practice on Thursday and will avoid going on the PUP list at the start of the season. He did practice with a brace on his left knee, but he'll more than likely will be sporting that for the rest of his career.
Kansas City Chiefs:
– Larry Johnson is apparently thrilled to be staying in Kansas City and will report to training camp on time Friday. Maybe Johnson and the Chiefs can burry the hatchet in training camp and have a successful marriage this season.
Baltimore Ravens:
– The Black Birds signed rookie offensive tackle Michael Oher to a five-year, $13.795 million contract with $7.8 million in guarantees. Oher was a steal at No. 23, but he'll need to work on his run blocking skills at the next level.
Posted in: NFL
Tags: Baltimore Ravens, Darrius Heyward-Bey, Darrius Heyward-Bey contract, JaMarcus Russell, JaMarcus Russell out of shape, Kansas City Chiefs., Larry Johnson, Michael Oher, Michael Oher contract, Michael Vick rumors, New England Patriots, New York Jets, NFL 2009 training camps, NFL training camps, Oakland Raiders, Thomas Jones, Tom Brady