2009 NBA Free Agency Preview: The top unrestricted free agents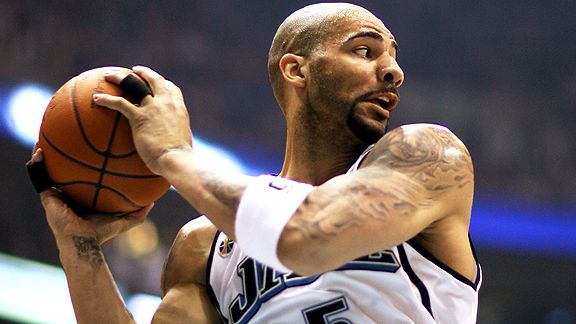 Once the draft is over, the next step of the NBA offseason is the free agency period. Negotiations start July 1, but players have to wait until July 8 to actually sign on the dotted line. Due to the economy, this promises to be an interesting summer, as more franchises seem to be trying to cut payroll than add talent. There are eight teams with significant cap space this summer, and there's no guarantee that they'll be willing to use it. Teams that are over the cap can add good players in two ways: 1) they can sign a player to the Mid-Level Exception (MLE), which will be around $5.8 million per season (and can be split up between two or more players), or 2) they can work out a sign-and-trade with the player's old team.
Below is a list of the top unrestricted free agents this summer. These are players who can sign with whomever they like. They're ranked in order of total value, which is based on overall talent, age, injury history and cost.
For each player, I'll provide his position, age, Player Efficiency Rating (PER) and an estimate of what kind of contract he's likely to sign.
1. Carlos Boozer, PF (27 years-old)
PER: 17.28
At press time, Boozer hasn't officially opted out, but he is expected to. He can play another year for $12.3 million, but he thinks he's due for a raise, and I don't think he's going to get the kind of raise he's expecting. Boozer is one of the top 20 players in the league when healthy, but it's that whole "when healthy" part that's the problem. Over the past five seasons, he has missed a third of his team's games. At 27, he's in his prime, and assuming he has the right supporting cast, I think he can be one of a twosome or threesome on a championship-caliber team. Boozer may not get a raise this summer, but he could get long-term security. The Pistons, Raptors, Kings and Thunder all have the space to make a run at him, but Sacramento and OKC might consider themselves too far away from contending to add a big piece like Boozer. The Pistons seem like the best fit, but they are rumored to have more interest in Ben Gordon. There's always the possibility that another team works out a sign-and-trade with Utah, but I don't think anyone is going to give him a max deal, not in this economy.
Value: $12.0 – $13.0 million per year

Posted in: NBA, NBA Draft, News, Rumors & Gossip
Tags: 2009 NBA free agency, 2009 NBA free agents, 2009 offseason, Allen Iverson, Allen Iverson free agent, Anderson Varejao, Anderson Varejao free agent, Andre Miller, Andre Miller free agent, Ben Gordon, Ben Gordon free agent, Brandon Bass, Brandon Bass free agent, Carlos Boozer, Carlos Boozer free agent, Chris Andersen, Chris Andersen free agent, Hedo Turkoglu, Hedo Turkoglu free agent, Jason Kidd, Jason Kidd free agent, John Paulsen, Lamar Odom, Lamar Odom free agent, Mehmet Okur, Mehmet Okur free agent, Mike Bibby, Mike Bibby free agent, NBA free agency, NBA free agency preview, NBA free agents, NBA rumors, Rasheed Wallace, Rasheed Wallace free agent, Ron Artest, Ron Artest free agent, Shawn Marion, Shawn Marion free agent, Trevor Ariza, Trevor Ariza free agent