What's up with that Amare Stoudemire-to-Golden State trade?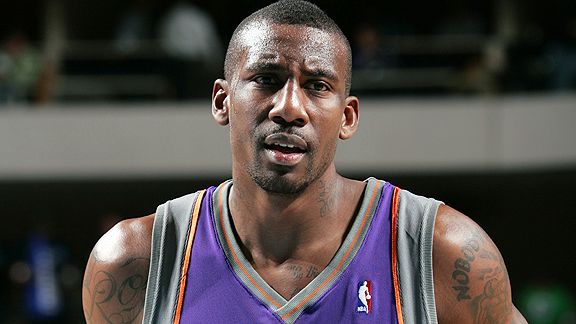 The short answer is "I don't know."
Not enough? I don't blame you. I wrote the following during my running diary on draft day:
There's a rumor that the Warriors might send Andris Biedrins, Marco Belinelli, Brandan Wright and the #7 pick to Phoenix for Amare Stoudemire. That seems like an awful lot to give up given the trades we've seen go down in recent days. But Stoudemire is a borderline franchise player, so a good center (Biedrins) and three prospects (Belinelli, Wright and the #7 pick) doesn't seem crazy.
The Warriors drafted Stephen Curry when he fell to #7. At that point, it wasn't clear whether or not he'd be headed to Phoenix as part of this trade. Paul Coro of AZCentral.com reported that he "likely" was headed to the Suns.
Golden State's selection of Davidson point guard Stephen Curry at No. 7 was likely made for the Suns as part of an Amaré Stoudemire trade that can't be completed until Wednesday. That is because Phoenix would be acquiring Warriors center Andris Biedrins, a base-year compensation player, as part of a Stoudemire deal that would include more Warriors players, possibly power forward Brandan Wright and/or shooting guard Marco Belinelli.

The Suns were hoping they could land Curry or Arizona power forward Jordan Hill with the Warriors' seventh pick but had their choice after Minnesota took neither with its fifth and sixth picks.
The next day, Coro reported that the deal was all but done, but hinged on whether or not Curry was included…