Richard Jefferson to the Spurs?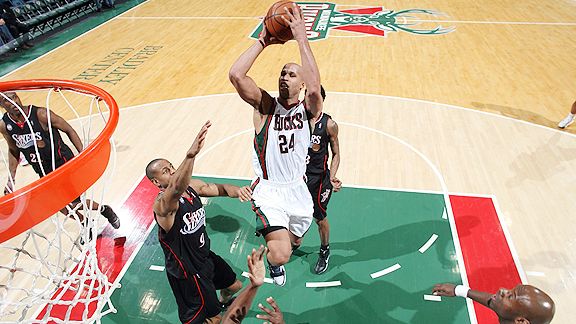 Chad Ford is reporting that the Bucks and Spurs have agreed to a swap that would include star swingman Richard Jefferson.
The Milwaukee Bucks agreed to trade Richard Jefferson to the San Antonio Spurs for Bruce Bowen, Kurt Thomas and Fabricio Oberto a Bucks source told ESPN.com.

The two teams have agreed to the deal in principle. A trade call to make the deal official is coming later Tuesday.

The move gives the Spurs a dynamic wing scorer to play alongside Tim Duncan, Tony Parker and Manu Ginobili. The Spurs had promised to make their team better this summer and adding Jefferson for role players should give them a huge shot in the arm.

The Bucks incentive to make the trade is largely financial. Bowen, Oberto and Thomas are all in the last year of their contracts. The deal will clear $15 million off the books for the Bucks next season and give Milwaukee more flexibility for next year. It also saves them roughly $3 million this year. That may give the Bucks the wiggle room to sign one of their restricted free agents — either Charlie Villanueva or Ramon Sessions — next year.
Largely financial? How about purely financial, Chad?
For the Bucks, this is a straight salary dump. Jefferson has two years and $29 million remaining on his deal, and the Bucks are dangerously close to the luxury tax threshold. They have two pretty good free agents in Villanueva and Sessions that need to be addressed. It looks like they'll have an extra $3 million this season to sign one or both to long-term deals.
The funny thing is that I just saw an interview with Bucks GM John Hammond where he said that the franchise wasn't in a position where they had to dump salary just to dump salary. Yeah, right. Talent-wise, the Bucks just lost a big piece in this trade, but if they're able to retain Sessions and Villanueva, they might be able to recover some of that talent. The move may be a sign that the team is ready to give Villanueva starter's minutes at one of the forward spots while playing defensive specialist Luc Richard Mbah a Moute at the other forward position.
For the Spurs, if this trade does indeed go down, it will go a long way to getting the franchise back into serious contention in the West. Jefferson is an energetic defender who can hit the three and score on the break. He is just a good all-around player. The Spurs know that their championship window is closing, and if the do acquire Jefferson, they will prove they are willing to pony up to put a championship-caliber supporting cast around Tim Duncan.
Posted in: NBA, NBA Draft, News, Rumors & Gossip
Tags: 2009 NBA free agency, Charlie Villanueva, Charlie Villanueva free agent, Milwaukee Bucks, Milwaukee Bucks trade, NBA free agency, Ramon Sessions, Ramon Sessions free agent, Richard Jefferson, Richard Jefferson trade, San Antonio Spurs, San Antonio Spurs trade