Ten NFL players facing make or break seasons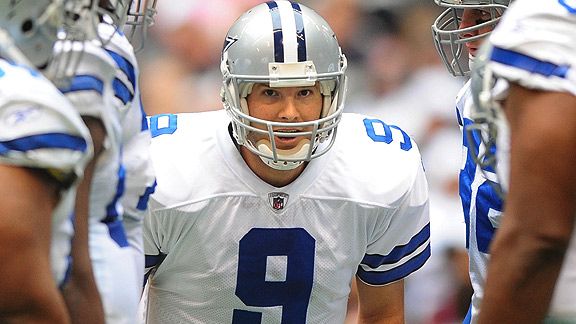 Training camp is still a month away but you don't need daily reports from the grueling two-a-day sessions to see what players are going to have the heat turned up on them this season. I've complied a list of 10 players (in no particular order) who, not necessarily the same reasons, face make or break seasons in '09.
1. Tony Romo, QB, Dallas Cowboys
If Romo doesn't get the Cowboys to the playoffs in 2009 will Jerry Jones look for other options at quarterback in 2010? No. But if you read between the lines, the Cowboys jettisoned Terrell Owens this offseason so that Romo will have every opportunity to be the team's most influential leader and hopefully go from being a great quarterback to one of the elite. While it might not technically be a make or break season for Romo, his career is certainly at a crossroads. Romo's numbers last year were solid – 3,448 yards, 26 TDs, 91.4 QB Rating – but his play faded over the last month of the season and the Cowboys imploded. Since then, Romo's work ethic, offseason dedication and leadership skills have been questioned and it appears as though the QB's career has come to a fork in the road. If he continues on the path his currently on, he might put up decent numbers and lead the Cowboys to the playoffs a couple more times before his days are done. That's certainly not bad, but Jones and the rest of the Cowboy faithful want Romo to be extraordinary and if he completely dedicates himself to the game, maybe he can take this talented team to the next level. One thing's for sure – with T.O. out of the way, this is now Romo's team and it's up to him where he and the Cowboys go from here.
Posted in: NFL
Tags: Anthony Stalter, Arizona Cardinals, Atlanta Falcons, Baltimore Ravens, Buffalo Bills, Dallas Cowboys, Jamaal Anderson, JaMarcus Russell, Laurence Maroney, Make or Break NFL players, Matt Leinart, Miami Dolphins, Michael Huff, New England Patriots, NFL news, NFL rumors, Oakland Raiders, San Francisco 49ers, Ted Ginn Jr., Terrell Owens, Tony Romo, Top 10 lists, Top 10 sports lists, Trent Edwards, Vernon Davis, Willis McGahee