Monday night to serve as test for youngster Sanchez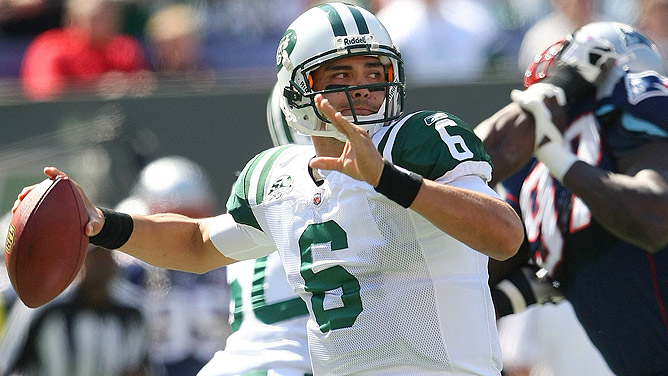 For all intents and purposes, last week was an utter disaster for Jets rookie quarterback Mark Sanchez. He threw for only 138 yards, was intercepted three times and had a fumble recovered for a touchdown in the Jets' 24-10 loss to the Saints in New Orleans.
Simply put, the kid looked like a rookie.
One of Sanchez's many issues last week was that he tried to do too much when plays broke down. Instead of chucking the ball out of bounds when he was in trouble, he forced passes into coverage and paid for it. Credit the Saints for generating a consistent pass rush throughout the game, but Sanchez needs to learn how to get rid of the ball and live to fight for another play.
But the growing pains he suffered last week weren't anything that Peyton Manning, Tom Brady or Ben Roethlisberger didn't go through early on in their development. In fact, Manning threw so many picks his rookie year that fans used to hold up signs mocking him to remember that his team wore blue jerseys and white helmets.
It's what Sanchez does tonight against the Dolphins that I'm most interested in, because he was bound to suffer a let down eventually. He wasn't going to walk through an entire season playing as well as he did the first couple games and not be exposed for the inexperienced player he is. In fact, it's better that he got his first ass-kicking of his career early in the year rather than later on at a crucial moment in the season. He can learn from the beating he took last week in New Orleans.
Pundits like to marvel at how calm and cool Sanchez has looked so far leading the Jets' offense. Well, let's see how he reacts after suffering his first loss. Let's see if he can learn from what happened last weekend and turn it into a positive for he and his team. He was eventually going to be exposed and he was, but now let's see how he responds.
I think he'll respond favorably. He has a great defense at his disposal, a solid running game, an excellent offensive line and now a No. 1 receiver in Braylon Edwards (when he's not dropping passes that is). Sanchez doesn't need to do too much; he needs to let the game come to him and rebound from his first defeat as a pro. That said, it'll be interesting to see how he does playing in his first prime time game of his career.