Is Matt Holliday the answer to the Giants' offensive woes?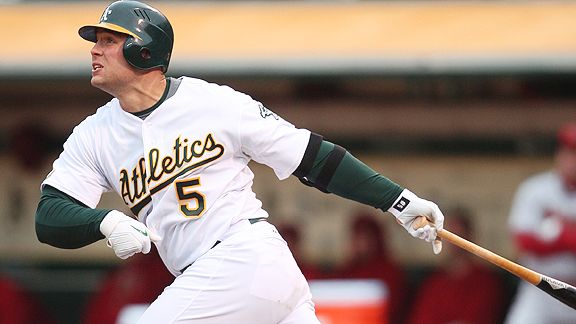 It's been five years since the San Francisco Giants have made a postseason appearance, so you'll have to pardon their fans if they're overly optimistic about the chances of their club possibly making the playoffs this year despite a lineup that often employs Edgar Renteria as its two-hole hitter.
The G-Men are currently 8.5 games back of the Dodgers in the NL West and with the PED Predator coming back from his suspension soon, L.A. is surely to stay well ahead of San Fran in the division. But the Giants are currently one game up on the Brewers for the NL Wild Card and if GM Brian Sabean could add a player or two before the July 31 trade deadline to help mask San Fran's biggest flaw, then the five-year playoff drought could end.
What's the Giants' biggest flaw you ask? Well if anyone can look at their lineup without doubling over in side-splitting laughter, then some kind of award is deserved.
Posted in: MLB
Tags: Adam Dunn trade rumors, Aubrey Huff Giants rumors, Brian Sabean, Brian Wilson, Edgar Renteria, Fred Lewis, Jonathan Sanchez, Mark DeRosa trade rumors, Matt Holliday, Matt Holliday trade rumors, MLB trade rumors, San Francisco Giants, San Francisco Giants rumors, San Francisco Giants trade rumors, Sergio Romo, Will the Giants trade for Matt Holliday?