Raptors and Heat make O'Neal/Marion swap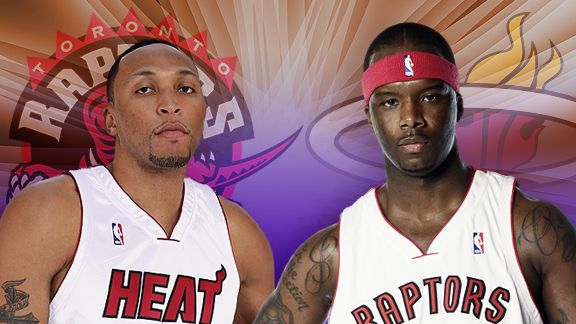 If this trade had happened a few years ago, it would have been a blockbuster.
The Toronto Raptors have agreed to send Jermaine O'Neal and Jamario Moon to the Miami Heat in exchange for Shawn Marion and Marcus Banks, league sources told ESPN The Magazine's Ric Bucher.

The deal is pending league approval, according to sources, and if approved, would be announced later Friday afternoon.
Rumors about this deal broke a few weeks ago, but died down when all the Amare Stoudemire talk started.
The trade makes sense for both sides. The Jermaine O'Neal experiment was not working in Toronto, and by trading for Marion, they get out from underneath O'Neal's giant contract, which runs one more year at the tune of $23 million. The Heat have been looking for a center since Shaq left, and O'Neal can be that guy. If he can post 18/10 and be a presence on the defensive end, the Heat will be a dangerous team come playoff time. The fact that his contract ends after next season still leaves Miami with plenty of cap room to sign another big name to go along with Dwyane Wade and Michael Beasley in the summer of 2010. The Heat were also able to unload Marcus Banks' contract and they got a pretty good small forward (Moon) as part of the deal.
In Miami, Marion was not fitting in very well and his numbers were down across the board. Toronto likes to push the ball, so if Marion can get back to his old play, they might keep him around in the offseason (assuming he doesn't ask for a contract that will break the bank). If not, Toronto will have about $13 million in cap space this summer.