Fantasy Quick-Hitters: Westy, DeSean, Bowe, Bell, MBIII and more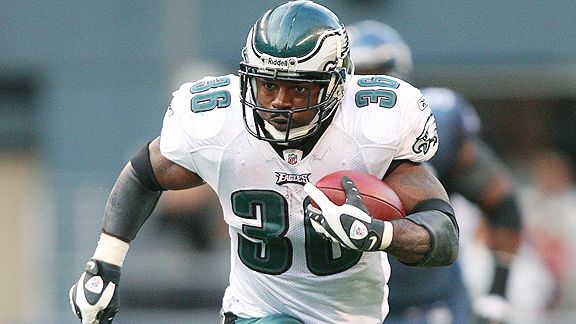 DeSean Jackson, Brian Westbrook miss practice. Westy has a long history of not practicing during the week and then killing defenses on Sunday, so plan to use him in Week 3. The Eagles play in the early game, so you'll have an opportunity to make an adjustment if he's inactive. While tweaked ankles can clear up fast, I'm a little worried about Jackson's groin injury. Muscle injuries don't typically just go away, but he may be able to fight through it. One wonders if the Eagles will risk it against a Kansas City defense that hasn't shown much in 2009.
Dwayne Bowe fighting a hamstring injury. He was a limited participant in Thursday's practice, but the fact that he was out there is a good sign for Sunday. Again, the PHI/KC game is at 1 PM ET, so you should have time to make a move if he is a surprise scratch. He was practicing again on Friday, so that's a good sign.
Giants lose SS Phillips for the season. This is a serious blow to a Giants DT that has looked strong thus far this season. The loss of Phillips will hurt both in the passing game and in run support, and given the team's other injury problems on defense, don't be afraid to start players facing the Giants this week (mainly Cadillac Williams, if healthy, and Derrick Ward).
Posted in: Fantasy Football, News
Tags: 2009 fantasy football, Antonio Bryant fantasy, Antonio Bryant injury, Brian Westbrook, Brian Westbrook fantasy, Brian Westbrook injury, DeSean Jackson fantasy, DeSean Jackson injury, Dwayne Bowe fantasy, Dwayne Bowe injury, fantasy football strategy, Jamal Lewis fantasy, Jamal Lewis injury, James Davis fantasy, Marion Barber fantasy, Marion Barber injury, Mike Bell fantasy, Mike Bell injury, Wes Welker fantasy, Wes Welker injury