Manny to begin rehab assignment soon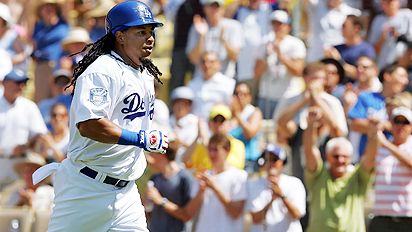 The Los Angeles Times writes that Manny Ramirez is scheduled to join the Dodgers' Triple-A squad on Tuesday and begin his rehab assignment.
Ramirez, who will be eligible to play again for the Dodgers on July 3, can play in as many as 10 minor league games at the end of his 50-game suspension for violating baseball's drug policy.

According to preliminary plans Ramirez and the Dodgers made Thursday morning, he will be in Albuquerque for a four-game series against Nashville.

Ramirez will be off June 27 and report to Class-A Inland Empire the next day. He will play in as many as three games for Inland Empire from June 28-30.

He will work out with the Dodgers on July 1, travel with them July 2 and play in the first game of a three-game series in San Diego on July 3.
It's amazing that the end of Manny's 50-game suspension is already near. At the start of it, everyone wondered how the Dodgers would fare without him and the results are in: GREAT.
The Dodgers currently have the best record in baseball and remain a whopping nine games above the Giants in the NL West. They're essentially doing their best Angels impersonation, because they're going to wrap up their division by late July or early August.
That said, it'll be interesting to see what kind of effect Manny has on the clubhouse. Considering they're winning, I assume that the effect will be minimum to positive. I can't see how adding his bat to their lineup will be a bad thing.