Powe close to signing with Cavs?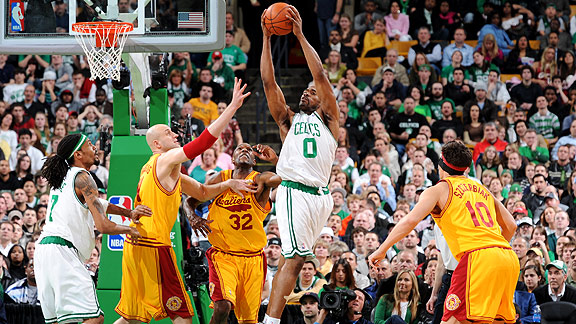 Free-agent forward Leon Powe will sign a two-year contract for the league minimum with the Cleveland Cavaliers on Tuesday if the team's doctors are satisfied with the progress of his injured left knee, a league source said.

Powe tore his anterior cruciate ligament and cartilage in his knee during Game 2 of the Boston Celtics' first-round series against the Chicago Bulls. He had reconstructive surgery on May 5 – his third major knee surgery – and has been rehabilitating in Los Angeles. Powe hopes to be back on the court by this season's All-Star break, and the Cavaliers are willing to take a low-risk gamble on him pending the results of his physical.
Over the past two seasons with the Celtics, Powe has been highly productive in the limited minutes he's received. He had a PER of 21.04 in the 2007-08 season and 17.25 in 2008-09. (15.00 is average.) He's an energy guy with a great nose for the ball and a limited offensive game. Sound familiar? That's exactly how I'd describe Anderson Varejao.
Which brings me back to the problems I have with the Cavs' offseason. I don't mind the addition of Shaquille O'Neal, but if he and Varejao (or Powe, if he signs) are on the court at the same time, LeBron is going to find that it's going to be tougher to get to the hoop. Other than Zydrunas Ilgauskas, none of the Cavs' bigs can shoot the ball effectively from outside the lane.
This wouldn't be much of a concern if Cleveland didn't depend so much on LeBron's one-on-one game. If he can't get to the rim as easily, he'll be settling for jumpers, and the Cavs' offensive efficiency will go down.