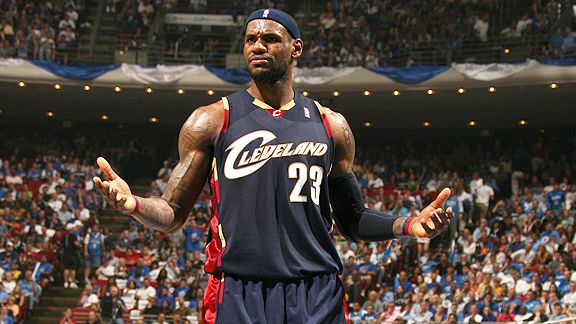 This is not how it was supposed to go.
The Cavs were destined to make the Finals and face the Lakers, with LeBron turning in a fantastic Game 7 performance in front of his loyal fans at the Q to bring the city of Cleveland its first championship since 1964. With a title already under his belt, and a few more on the horizon, he would happily re-up for another four or five seasons. Or at the very worst, the Cavs would lose to the more talented Lakers, leaving fans with the feeling that "one more piece" would be all that is needed to finally bring a title to Cleveland. Under that scenario, there would be no way that LeBron could leave, right? Not when the Cavs were thisclose to a title…
Just over a year ago, I wrote that "The Cavs have failed LeBron James," which was posted about three months before GM Danny Ferry pulled the trigger on the trade that brought Mo Williams to Cleveland. That trade, along with LeBron's renewed focus and an improved work ethic (which was inspired by his seeing first hand how Kobe prepared during the 2008 Olympics), pushed the Cavs to a league-best 66 wins this season. Williams was named as an alternate to the All-Star Game (after grousing about not being voted in by the coaches) and all was well with the world.
The Cavs received some more good news when Kevin Garnett struggled with injuries down the stretch of the regular season and was eventually shut down for the playoffs. At the time, the Celtics were considered the Cavs' biggest threat in the East, but KG's injury might have allowed the Magic, one of four teams that beat the Cavs twice during the year — the Celtics, the Lakers and…um…the Wizards were the other three — to advance to the Conference Finals when they otherwise wouldn't have survived to face the Cavs. The Magic were a very bad matchup because the Cavs simply didn't have anyone that could cover Dwight Howard. When they didn't double-team him, he would make a living on the post, and when they did send another guy, it would free up the Orlando sharpshooters for open jumpers.
Posted in: College Basketball, NBA, NBA Draft, NBA Finals, Rumors & Gossip
Tags: 2009 NBA free agency, 2009 NBA free agents, 2010 NBA free agency, 2010 NBA free agents, Boston Celtics, Cleveland Cavaliers, Dwight Howard, John Paulsen, Kevin Garnett, LeBron 2010, LeBron free agent, LeBron James, LeBron Knicks, LeBron Nets, LeBron's future, Orlando Magic, summer of 2009, Summer of 2010