The top 10 first round steals of the last 10 years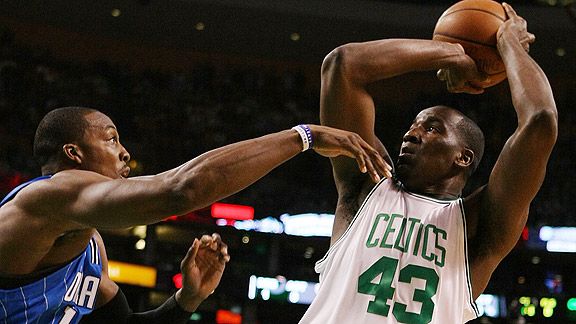 Everyone loves to focus on the lottery, but there are good players to be had in the late first round as well. A while back, I put together a list of the top second round picks of the modern era, so now I'm going to focus on those players that were drafted between pick #21 and pick #30 in the first round. (Note: If a player was drafted in the second round, even if they were taken with the #29 or #30 pick overall, they are ineligible to make the list. Sorry, Gilbert.) Since there are more star-quality players available in the 20's, I'm limiting this list to the last ten drafts (i.e. 1999 through 2008).
It is sometimes tough to rank older players with newer players, but even if a younger player holds more trade value right now, I am going to take into account each player's entire career. For the young guys, I have to project a little bit, so keep that in mind as you read and react. I feel great about the top eight guys, but there are a few players that missed the list that are pretty interchangeable with #9 and #10.
On with the list…
10. Aaron Brooks, Rockets
26th pick in 2007
I had to decide between Brooks and Nate Robinson here and went with Brooks given his fine performance in the playoffs this season (16.8 ppg, 3.4 apg, 42% from 3PT) and how Robinson's numbers are a little inflated playing for Mike D'Antoni. Brooks is not a natural point guard, but his sharpshooting is a good fit given Houston's inside-out attack. He's small, but he's quick and is able to score at the rim when given some daylight. The Rockets feel good enough about Brooks to trade Rafer Alston away midseason, so you have to like his upside.
9. Kendrick Perkins, Celtics
27th pick in 2003 (drafted by the Grizzlies)
In the world of "big" guys, I also considered Boris Diaw here, but it's tough to pass on a 6'10" 24-year-old who averaged 8.5 points, 8.1 rebounds and 2.0 blocks per game on a team loaded with vets. Without Kevin Garnett in the playoffs, the C's needed Perkins to step up his game and he responded with 11.9 points, 11.6 boards and 2.6 blocks per contest. He also did a pretty good job on Dwight Howard, who had his worst numbers of the playoffs against the Celtics.
8. David Lee, Knicks
30th pick in 2005
Isiah Thomas couldn't make a good trade to save his life, but he could spot talent in the draft. Lee has turned out to be a steal with the last pick in the 2005 draft. He's an athletic lefty whose best traits are his hustle and smarts. In just his fourth season, Lee averaged 16.0 points and 11.7 rebounds per game, which made him one of the most consistent double-double guys in the league. His stock is so high right now that the Knicks might be able to use him as trade bait in order to land Chris Bosh or Amare Stoudemire. Maybe they'd be better off sticking with Lee…
Tags: 2009 NBA Draft, Aaron Brooks, Andrei Kirilenko, Beno Udrih, Boris Diaw, Courtney Lee, David Lee, Delonte West, George Hill, Gerald Wallace, Jarrett Jack, John Salmons, Jordan Farmar, Josh Howard, Kendrick Perkins, Kenny Thomas, Kevin Martin, Leandro Barbosa, Linas Kleiza, Morris Peterson, Nate Robinson, NBA Draft, Rajon Rondo, Rudy Fernandez, Samuel Dalembert, Tayshaun Prince, Tony Parker