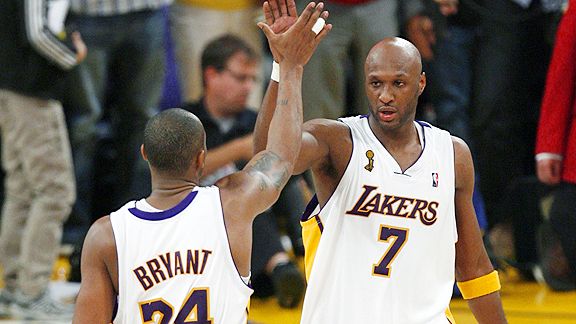 Free agent forward Lamar Odom will return to the Los Angeles Lakers, an NBA source said Thursday.

One source with knowledge of the talks told ESPN.com the four-year deal is worth $33 million if the Lakers exercise the final season.

One source close to the process said Odom will come away with a guaranteed $27 million from the new contract, matching the original value of the three-year, $27 million deal Lakers owner Jerry Buss pulled off the table earlier this month.

It's believed that the structure of the new deal calls for Odom to earn $25 million over the first three seasons, with the Lakers owing him $2 million in the fourth year if they elect not to pick up their team option.
Hopefully this is finally over. It sounds like the Lakers put the original offer (or a similar offer) that they originally rescinded back on the table and that was enough to get Odom to bite. He's leaving about $10 million in guaranteed money on the table by rejecting the Heat's offer, but he'll a chance to make that up as he enters the 2012-13 season as a 32-year-old free agent, assuming the Lakers don't exercise the final year of this deal.
The Lakers needed to retain Odom to avoid moving backward this summer. They're the team to beat in the West, but Ron Artest is a lot less dependable than Trevor Ariza, so he needs to keep it together and play at a high level. Andrew Bynum is the other wild card. If he can stay healthy, the Lakers will be very tough to beat.