2009 NFL Preview: #25 Denver Broncos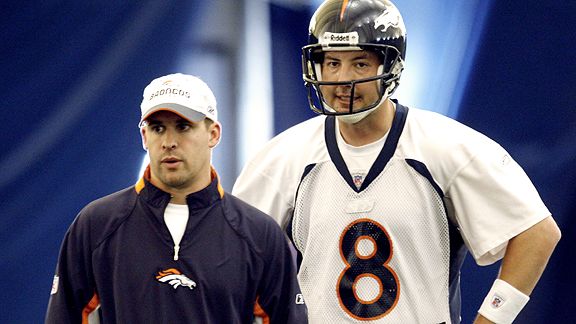 Check out all of our 2009 NFL team previews.
Offseason Additions: Kyle Orton (QB); Brian Dawkins (S); Andre' Goodman (CB); Renaldo Hill (S); Jabar Gaffney (WR); LaMont Jordan (RB); Correll Buckhalter (RB); Andra Davis (LB); Chris Simms (QB); J.J. Arrington (RB); Brandon Llyod (WR); Ronald Fields (DT); Nick Greisen (LB).
Offseason Losses: Jay Cutler (QB); Dre' Bly (CB); Erik Pears (RB); Michael Pittman (RB); Nate Webster (LB); Jamie Winborn (LB); Ebenezer Ekuban (DE); Darrell Jackson (WR); Dewayne Robertson (DT); Patrick Ramsey (QB).
Player to Watch: Knowshown Moreno, RB.
Moreno will excel as a pass catcher in Josh McDaniels' offense and should find plenty of running room behind the Broncos' solid offensive line. He has outstanding vision and has picked up the art of pass-blocking. Although he's been limited the past few weeks after suffering a MCL sprain in Denver's preseason opener, Moreno is on track to play in Week 1. As long as he stays healthy, he could emerge as the Broncos' every down back.
Team Strength: Led by tackles Ryan Clady and Ryan Harris, the Broncos have one of the best offensive lines in football. As a rookie, Clady demonstrated outstanding run-blocking skills and strength at the point of attack. Harris isn't as athletically gifted as Clady, but he surrendered just 2.5 sacks last year and has excellent technique. Center Casey Wiegmann and guards Ben Hamilton and Chris Kuper are solid pass-blockers, although they could struggle with run-blocking as the team transitions out of the old zone-blocking scheme.