Rhodes wants to embarrass the Patriots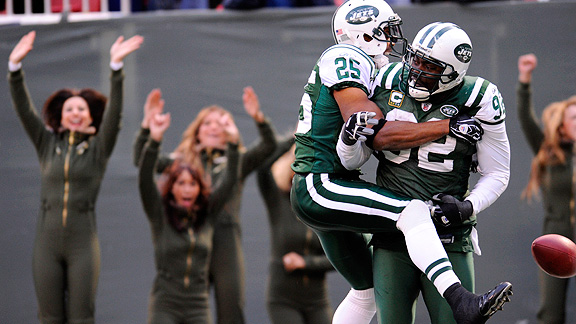 Jets' safety Kerry Rhodes is taking a page from his head coach in calling out the Patriots, saying that he wants to "embarrass" New England this Sunday when the two teams clash in New York on Sunday.
"You go out from the first quarter on, from the first play on, and try to embarrass them," Rhodes said, according to the New York Daily News. "Not just go out there and try to win, try to embarrass them. Try to make them feel bad when they leave here. We don't want to just beat them. We want to send a message to them, 'We're not backing down from you and we expect to win this game, and it's not going to be luck, it's not going to be a mistake.' "

Brady, returning from a knee injury that cost him almost the entire 2008 season, was hit only six times by the Buffalo Bills in Week 1's comeback victory. Rhodes said Brady will be hit far more often by the Jets' defense, which hit Texans quarterback Matt Schaub eight times in Week 1.

"We will hit him more than six times. I promise you that," Rhodes said, according to the Daily News.

Rhodes insisted the Jets "won't play dirty" but that Brady will be vulnerable.

"I'm sure if somebody is around his leg, or he feels pressure below, he's not going to step into his throw," Rhodes said, according to the Daily News.
As a writer, I love this kind of smack talk. But I don't think it's wise for Rhodes (or anyone else for that matter) to give the Patriots any extra motivation on game day. That said, New England is coming off a short week and its defense didn't play well without Jerod Mayo on Monday against Buffalo. Mayo won't play this week, so maybe the Pats are primed for the taking.
The Jets backed up Rex Ryan's offseason talk last week in Houston, so maybe they'll do the same for Rhodes this Sunday against New England.