Ten second-year NFL breakout candidates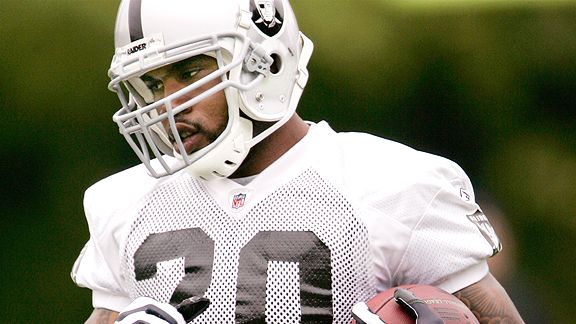 Players like Matt Ryan, Chris Johnson and Joe Flacco have already pulled a seat up to the proverbially NFL dinner table after turning in solid rookie seasons. But which second-year players (who didn't have great success in their rookie campaigns) are set for breakout seasons in 2009?
Here are 10 that jump out to me:
(Note: I consider players like Ryan, Johnson, Flacco, Jonathan Stewart, Matt Forte and Steve Slaton as already having breakout seasons, so you won't find them on this list.)
In no particular order:
1. Darren McFadden, RB, Raiders
Justin Fargas is a favorite of head coach Tom Cable's in Oakland, but the Raiders didn't select McFadden with the fourth overall pick in last year's draft not to take full advantage of his talents. Thus far this summer, the Raiders have lined McFadden up not only at running back, but also at receiver and even quarterback. With Cable calling the offensive plays this season, McFadden is set to see plenty of opportunities to excel in Oakland's offense and as long as he can stay healthy (a turf toe injury slowed him down last season) the former top 5 pick could emerge as the Raiders' most potent offensive weapon. The one part of his game that he'll need to improve on, however, is his ability to run between the tackles. If he can't, the hard-running Fargas will steal plenty of McFadden's touches this season.
Posted in: NFL
Tags: Anthony Stalter, Arizona Cardinals, Atlanta Falcons, branden albert, Buffalo Bills, Cincinnati Bengals, Curtis Lofton, Dallas Cowboys, Darren McFadden, Dominique Rodgers-Cromartie, Donnie Avery, Kansas City Chiefs., Keith Rivers, Kenny Phillips, Leodis McKelvin, Martellus Bennett, New Orleans Saints, New York Giants, NFL breakout candidates, Oakland Raiders, Sedrick Ellis, St. Louis Rams, Top 10 lists, Top 10 sports lists