NBA free agency and draft rumors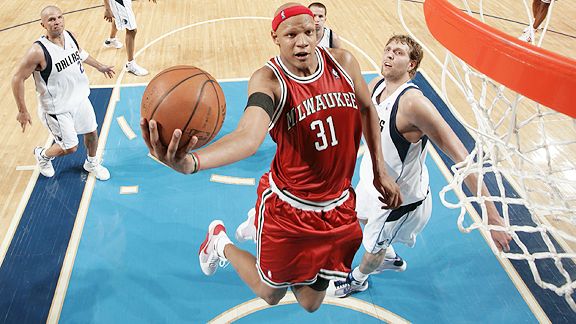 – Charlie Villanueva is open to joining the Cavs, and given the current state of the economy, it's not out of the realm of possibility that the best he'll be able to do is a deal at the mid-level (~$5.8 million). The Bucks first have to decide whether or not to make the qualifying offer (~$4.6 million) and they may elect not to in order to avoid going over the luxury tax threshold (~$71 million, and could drop). Without Villanueva (and Ramon Sessions, who is also slated to become a restricted free agent), the Bucks' payroll is at about $61 million with only eight players under contract. Villanueva would give the Cavs a good matchup for Rashard Lewis. Both players are slender power forwards who can shoot the ball, though Charlie V isn't known for his defense.
– UFA Andre Miller doesn't have a problem with the Sixers' hire of head coach Eddie Jordan. The Sixers are over the cap but well under the luxury tax, so I'd expect them to sign the 33 year-old to a one- or two-year deal in the $6-7 million range. He is unlikely to get that on the open market, but Portland is a team with cap space that could use his leadership.
– Toronto GM Bryan Colangelo plans to keep Chris Bosh and try to surround him with better players, unless the talented power forward expresses serious doubts about re-signing. By sending Jermaine O'Neal to the Heat for Shawn Marion (and his expiring contract), the Raptors have about $10 million in cap space heading into the summer. While that may not be enough to land someone like Carlos Boozer, it is enough, coupled with the team's mid-level exception, to add two or three pretty good players to the roster. How about Ben Gordon and Charlie Villanueva/Chris Andersen? I'd expect the Bosh rumors to heat up next season if Toronto struggles again early on.
– Hoopsworld says that there's a rumor making the rounds that the Thunder might take DeMar DeRozan #3. This sounds a little fishy to me because everything I'm seeing shows DeRozan slipping a little after poor agility and sprint tests at the combine. James Harden has the better standing vertical and is just 1.5″ off of DeRozan's max vertical. Harden also beat DeRozan soundly in the agility and sprint tests and is the much more polished offensive player at this point. DeRozan is 1.5″ taller, but Harden has a higher reach because he has a longer wingspan.
– With Jonny Flynn and Jrue Holiday climbing the draft charts, Ricky Rubio is suddenly open to interviews and workouts with teams picking #2 to #4, which includes Memphis, Oklahoma City and Sacramento. Rubio apparently didn't play very well in his season finale, and his camp may be worried about him slipping out of the top four if those teams in question find a guy they like better.
Posted in: NBA, NBA Draft, Rumors & Gossip
Tags: 2009 NBA free agency, 2009 NBA free agents, Cleveland Cavaliers, DeMar DeRozan, DeMar DeRozan draft, free agency rumors, James Harden, James Harden draft, Jonny Flynn draft, Jrue Holiday, Jrue Holiday draft, Milwaukee Bucks, NBA Draft rumors, NBA free agency, NBA free agency rumors, Ricky Rubio draft, Toronto Raptors